In Remembrance of Don Boydston

Don Boydston
Date of Death: 05-20-2019
Burial: Ridgley Cemetery
Funeral Service : 05-24-2019
---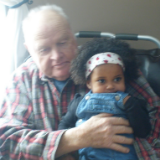 Don A. Boydston passed away May 20, 2019 at his farm in rural Platte County. He was born on the same farm on July 1, 1923 to Janie (Sinclair) and Alva Boydston. Don farmed his entire life and loved being outdoors working. His love of nature and animals was epitomized by the dogs he had all his life. He had a special bond with them. Don was preceded in death by his parents, his brother Sinclair Boydston, sister Dorothy Woods, wife Lou Boydston and nephew Mark Helm. He leaves his nieces Nancy Jane Woods, Kathy Shirley (Mike), Valerie Helm (Dan); great nieces and great nephews Heather Helm Hecham (Shane), Valerie Helm, Jeff Shirley, Janie Helm, Ann Shirley Leymon (Mark); great-great-nieces and nephews Lucas, Leah, Amira and Alex. 
Visitation: 10:30-11:00 a.m. Friday, May 24th with Funeral Services at 11:00 a.m. at Hixson-Klein Funeral Home, Smithville
Burial: Ridgely Cemetery
Donations may be made in his memory to an animal shelter of your choice.

Tweet
Share
Link
Plus
Pin
---