In Remembrance of Charles Atchison

Charles Atchison
Date of Death: 05-01-2022
Funeral Service : 05-04-2022
---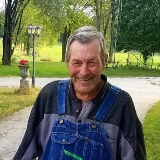 Charles Douglas Atchison, 88, of Kansas City, MO passed away Sunday, May 1, 2022.
He was born on October 22, 1933, to Benjamin Franklin and Callie (Stacey) Atchison in Oasis, MO. Charles grew up in Omaha, Arkansas where he attended school. 
On July 9, 1953, he was united in marriage to Billie Carpenter. After their marriage they lived in Arkansas and later moved to Kansas City where they made their home. Billie passed away on November 27, 2014.
Charles was worked in concrete for over 60 years. He enjoyed fishing, hunting, and being outdoors. 
He was a member of the Mt. Zion Baptist Church in Edgerton, MO.
Charles was preceded in death by his wife Billie Atchison; his parents Frank and Callie Atchison; brothers Bill and Glen; sisters Goldie, Pat, Edna, Cliffie, and Opal; and two great-granddaughters Krystle Tipton and Del'Mya Wilson.
He is survived by his children Ken Atchison and wife Nancy, Karen Smith and husband Bob, Skeeter Atchison and wife Hope, and Kevin Atchison and wife Leslie; granddaughter whom they raised Nikki Beebe; twelve grandchildren; twenty-six great grandchildren; six great-great-grandchildren; numerous nieces and nephews, other relatives and many friends. 
 Visitation: 6:00-8:00 p.m. Wednesday, May 4th at Hixson-Klein Funeral Home, Smithville. 
Inurnment will be held at a later date at Omaha Cemetery, Omaha, Arkansas
Donations may be made to the Omaha Cemetery.

Tweet
Share
Link
Plus
Pin
---