In Remembrance of Wilbur R. Field

Wilbur R. Field
Date of Death: 10-31-2020
Burial: Bennett Lane Cemetery
Funeral Service : 11-06-2020
---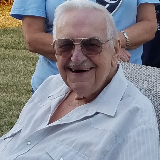 Wilbur R. "Will" Field, 85, of Gower, MO passed away October 31, 2020.
He was born on September 5, 1935 to Charles Fay and Mildred A. (Adkins) Field in Barnard, MO. Will grew up in rural Savannah, MO and in 1953 graduated from Savannah High School. He then served his country in the US Army during the Korean War. After his honorable discharge he returned to Savannah.
On July 12, 1955 he was united in marriage to Marilyn C. Roberts. In 1963 they moved to the Miles City, Montana area where he became a cattle rancher.   In May of 2005 he moved to Gower, MO where he became the "Gower Newspaper Guy" and was named News Press Carrier of the Year. 
 Will was an avid John Deere Two-Cylinder Tractor follower and enjoyed restoring horse drawn John Deere Equipment. He was a member of the Gower Old Timers Hall of Fame. 
 He was preceded in death by his parents Charles and Mildred Field; brother Lloyd Field and sister Darlene Schneider.
Will is survived by his children Sheila "Crickett" O'Day and husband Ed and Brad (Twilla) Field and their mother Marilyn Holbrook; grandchildren Malynda (Jackson) Smith, Amanda Field, Tessa Hajek, Shelby Field, and Brooke (Justin) Causey; 7 great-grandsons; 2 great-granddaughters; several nieces, nephews, other relatives and numerous friends.
Visitation: 6:00-8:00 p.m. Thursday, November 5th at Hixson-Klein Funeral Home, Gower
Funeral Service: 11:00 a.m. Friday, November 6th at the funeral home.
Burial: Bennett Lane Cemetery, Savannah, MO.
Donations may be made to the Gower Lions Club.

Tweet
Share
Link
Plus
Pin
---