In Remembrance of Wayne Cyrus Kline

Wayne Cyrus Kline
Date of Death: 01-04-2019
Burial: Agency Cemetery
Funeral Service : 01-08-2019
---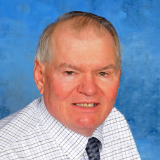 Wayne Cyrus Kline, 72, of Gower, MO formerly of Agency, MO passed away Friday, January 4, 2019 at his home.
He was born on December 12, 1946 to Charles Graham and Alice Florence (Kelsey) Kline in St. Joseph, MO. Wayne grew up in Agency and in 1965 he graduated from Gower High School and remained close with his classmates. He received his bachelors and masters degrees in science from Northwest Missouri State University in Maryville, MO where he was active in the Baptist Student Union. Wayne served his country for four years in the US Navy during the Vietnam War. He was stationed in Annapolis, MD as a trainer for the US Navy Academy athletic teams. After his honorable discharge, he returned to the Agency area. 
 On April 10, 1976 he was united in marriage to Leanna Easley. After their marriage they lived in Agency and in 1999 they moved to Gower, MO.  He retired from JC Penney in Kansas City. Wayne was a longtime active attendee of Frazier Baptist Church. He was an avid Chiefs fan and loved football. Wayne enjoyed taking walks and was a history buff. He was an amazing husband, dad, brother and friend.
He was preceded in death by his parents; sister Mary Alice Budine, great-nephew Preston Budine and sister-in-law Sara Kline. 
 Wayne is survived by his wife Leanna Kline; son Jonathan Wayne "Sticks" Kline and wife Hanna; brothers and sisters Charlie (Clara) Kline, Jim (Judy) Kline, Susy (Stan) Jaggars, John (Vicki) Kline, Jeanie (Greg) Goodman, and Nancy (Jerry) Rodgers; sister-in-law Judy (Allen) Keenan; numerous nieces and nephews, other relatives and many friends. 
 Visitation: 4:30-7:30 p.m. Monday January 7th at Frazier Baptist Church
Funeral Service: 11:00 a.m. Tuesday, January 8th at Frazier Baptist Church. 
Burial with Military Honors: Agency Cemetery. 
Donations may be made to Frazier Baptist Church or Agency Cemetery
 Arrangements, Hixson-Klein Funeral Home, Gower

Tweet
Share
Link
Plus
Pin
---