In Remembrance of Wayne Adkins

Wayne Adkins
Date of Death: 12-22-2021
Funeral Service : 12-22-2021
---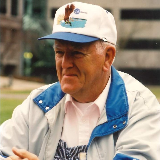 Wayne Ray Adkins, 93, Dearborn, MO, went to his eternal home, Wednesday, December 22, 2021, while in hospice care at North Kansas City Hospital.
Wayne was born at his family home in Dearborn on March 14, 1928, as the son of Elmer and Dixie (Babcock) Adkins. He attended multiple small elementary schools in Platte County before graduating from Faucett High School in 1946. He was drafted into the U.S. Army in 1951 and after serving his country during the Korean War, Wayne came home to marry his sweetheart of eight years, Nigel Faye Morgan. 
Wayne and Nigel have three children: Vernon (Deanna) Adkins of Camden Point, MO; Regina (Chris) McCord of Kansas City, KS; and Brenda (Joe) Horn of Parkville, MO.
Wayne was a faithful Christian, husband, son, brother, uncle, father, grandfather and great grandfather.
He began farming with his father and older brother at the young age of 11. He and his brother worked together on a steel-wheeled tractor, one working the pedals and one working the steering wheel. At this same age, he drove a sickle mower behind a team of work horses helping to keep grass and weeds clear from the fields of crops. He learned early how to prepare for life as a fulltime farmer. Wayne and Nigel raised their family on a farm outside Camden Point.
Wayne was an investor of time, talent and finances. He many times did without so that others' needs could be met and adopted the values of hard work and discipline to create a life well lived. He also embraced a saying in his later years of "Every day is a good day. Some are just better than others." 
Wayne was a long-time deacon and member of the First Baptist Church of Dearborn and later a member of Mt. Zion Baptist Church of Edgerton. He served on numerous teams of the Master's Builders helping build and renovate churches across the United States.
He is survived by his wife, three children, six grandchildren, six great grandchildren, many nieces and nephews and extended family.
Due to Covid-related outbreaks in northern Platte County, only a small, family graveside service will be held at this time with a public Celebration of Life to be offered in the future. Cards may be sent to 12730 Z Hwy, Dearborn, MO 64439.
If memorial donations are considered, Wayne and Nigel are long-time supporters of the following charitable organizations: Children's Mercy Hospital – 2401 Gillham Road, Kansas City, Missouri 64108 or Lives Under Construction Boys' Ranch – 296 Boys' Ranch Road, Lampe, MO 65681.

Tweet
Share
Link
Plus
Pin
---