In Remembrance of Victor Baber

Victor Baber
Date of Death: 12-28-2021
Funeral Service : 02-14-2022
---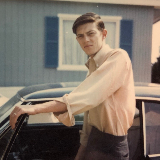 Victor Jay Baber, 76, of Bean Lake, passed away peacefully surrounded by family at his home on December 28, 2021 in Bean Lake, Missouri. 
Funeral services will be held February 14. 2022, at 11:00 a.m.  at Leavenworth National Cemetery with Chaplin Wildon Mitter officiating the graveside service. 
Following the graveside service, there will be a lakeside celebration of life gathering at Johnson Drive Pavilion, Bean Lake after sunset. Arrangements are made by Hixson-Kline Funeral Home of Smithville, MO. and family.     
Victor was born in Platte City, Missouri to Preston Baber and Genevieve Herdman. He spent most of his time as a young boy duck hunting and fishing with his brothers John, Donald, Jim, and Floyd. Victor was drafted alongside his brothers and Earl Jones to serve in the Army during the Vietnam War. Being the youngest brother to serve, he was the only brother that remained stateside. He was recognized for his marksmanship as a Sharp-Shooter in the Army and was honorably discharged after a Medal of Honor for Good Conduct.     
As a young man, Victor enjoyed floating the river with friends, time with family, hunting, fishing, building rock fireplaces, renovation projects, and hanging out with a group of amazing friends like Earl and Carl. Victor was a father to one son and three daughters. He had a special relationship with each one of them; Vic's Boy, Daddy's Girl, The Apple of My Eye, and the Daddy's Little Puddle Jumper. He spent many hours preparing for adventure, hunting, and traveling with his children. Later in life, he enjoyed simply just being at the lake with close friends like Ron, Jane, Warren, Kevin, Debbie, Mike, Curtis and many more.     
Victor believed all four of his children were the best thing he had ever been given by God, with Teresa and Pat as their mothers. He mentioned often how thankful he was for being a father and grandfather each and every day.     
Victor Jay, a jack of all trades, a master of many. The love he shared for his children, family, friends, and God was the most perfect accomplishment he ever completed. Victor was a carpenter, welder, real estate agent, salesman, traveling evangelist, devout Christian, police officer, and published author of The Book of Miracles. 
He is proceeded in death by Preston Baber, Genevieve Herdman, John Baber (Renee Baber), Donald Baber, Jimmy Baber, Ilean Rattigan, Jesus Christ (His Lord and Savior). 
Victor is survived by Teresa Baber-Horne, Pat Edwards, Troy Baber (Audra Baber), Victoria Baber, Angela Baber (Michael Dehring), Genevieve Baber (Jason Ellis), Floyd Baber (Marilyn Baber), Peggy Baber, Scherelle Baber, Lindsey Trombini (Carlos Trombini), Eliza Baber, Michaela Sullivan, Jaiden Ellis, Madison Shanks, Brooklynn Ellis, Beau Ellis, Auriel Dehring, Emily Baber, Zander Dehring, Camila Trombini, Luca Trombini, and many great friends that were like family. 
Most importantly, he is proceeded and survived in death by his Savior that has risen again for Victor to be saved and welcomed into Heaven with open arms. The ducks are flying and the Chiefs are winning, its time to go!

Tweet
Share
Link
Plus
Pin
---