In Remembrance of Velma Morton

Velma Morton
Date of Death: 10-07-2023
Funeral Service : 10-15-2023
---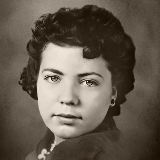 Velma Morton, 94, of Gower, MO passed away, October 7, 2023. 
She was born on September 26, 1929 to Charles Thomas and Lula Mae (Hensley) Morton in Ozark County, near Elijah, MO where she grew up and graduated high school.
On October 1, 1946 she was united in marriage to Maurice "Buster" Morton. After their marriage they lived in Bakersfield, CA. In 1969 they moved to Ventura and in 1981 they moved to Gower. 
Velma loved gardening, quilting and cooking. Most of all she loved her family and was always involved in their lives. 
She was a former member of the First Baptist Church in Gower and was a current member of the Gower Christian Church.
Velma was preceded in death by her parents; son, Danny Morton; daughter-in-law, Kathy Morton; daughter, Shirley Wheeler; brothers, Elmer and Claud Hensley; and sisters, Redia Copeland, Maggie Lewis, Agnes Johnson, Delpha Long, Mary Buchanan, and Geneva Simpson.
She is survived by her son, Dennis (Kandy) Morton; daughter, Sheila (Paul) Mann; son-in-law, Eddie Wheeler; ten grandchildren, Shanna (Keith) Kilgore, Beth (Clint) Thompson, Becky (Matt) Schilling, Rachel (Will) Graham, Brandon Morton (Shauna), Dusty (Amaranta) Morton, Clancy Mann, Ian Mann, and Clarissa (Sam) Guest, Danell (Danny) Hensley; twelve great-grandchildren, Eddie (Amanda), Eric, Ethan, Luke, Carson, Lilly, Nathan, Cooper, Jordan, Malana, Devon, Aidan, Braxton, Penelope and Amelia, Pierce, Frankie; great-great-granddaughter Alaia; several nieces and nephews, including Lana Young; other relatives and many friends.
Funeral Service: 3:00 p.m. Sunday, October 15th at the Gower Christian Church with visitation one hour prior to the service.
Burial: Allen Cemetery, Gower, MO.
Arrangements, Hixson-Klein Funeral Home.

Tweet
Share
Link
Plus
Pin
---