In Remembrance of Twila Ellington

Twila Ellington
Date of Death: 04-07-2022
Burial: Community of Smithville Memorial Cemetery
Funeral Service : 04-11-2022
---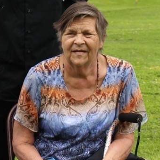 Twila Ellington, 66, of Easton, MO, passed away, April 7, 2022.
She was born on July 3, 1955  to David Eugene and Crystal Irene (Gleaves) Heinrichs in St. Joseph, MO. Twila grew up in Easton and graduated from East Buchanan High School. On July 18, 1980 
Twila was united in marriage to Jerry Ellington. After their marriage they lived in Easton where they made their home. Her husband, Jerry, passed away March 26, 2019.
Twila served in the Air National Guard and was a member of the Eastern Star in Stewartsville. Twila served her community as the Mayor of Easton and managed the Senior Housing in Easton and Gower. She loved gardening, ceramics and craft shows, and most of all her spending time with her granddaughter, Deanna and great-grandchildren. Twila and Jerry also enjoyed auctions and garage sales.
Twila worked for B&B Marina in Smithville, H&R Block, the Gower Convalescent Center, and was a tax consultant for many years.
She was also preceded in death by her father; son, James Ellington; and grandson, Curtis Reed.
Twila is survived by her daughter, Irene Ueligger (Tiffany); son, Eugene Welsh; grandchildren, Deanna Scofield (Brandon Hays) and Brandon and Chance Ellington; mother, Crystal Heinrichs; brothers, Dale, Gary, and Guy Heinrichs; several great-grandchildren including, Conner Christopher, Gavin Christopher, and Lizzie Hays; numerous nieces and nephews, and many friends.                                                                    
Funeral Service: 11:00 a.m. Monday, April 11th at Hixson-Klein Funeral Home, Gower, with visitation at 10:30 a.m. prior to the service.
Burial: Community of Smithville Memorial Cemetery, Smithville.
Tweet
Share
Link
Plus
Pin
---