In Remembrance of Tom Theisen

Tom Theisen
Date of Death: 10-08-2023
Burial: Calvary Cemetery
Funeral Service : 10-19-2023
---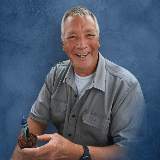 Thomas (Tom) John Theisen, 65 years old, Gower, Missouri, passed away after a hard, valiant fight against cancer on Sunday, October 8, 2023, at home, surrounded by his immediate family and his 4-legged friend, Bentley.
Tom was born August 7, 1958, in Sheldon, Iowa, the third of 14 children born to Ivan and Yvonne (Muller) Theisen. He attended Remsen St. Mary's School through 8th grade. In 1976, he graduated from Marcus Community School. He went on to earn an Associate of Applied Science Degree in Agri-Business Management from Northwest Iowa Technical College in 1978. After high school, Tom went to work for a local farmer in Paullina, Iowa; Graves bridge construction, Osmose Wood preserving, a dock worker and driver for Overnite Transportation and then later Del Monte while starting his own company, Double T Metal Buildings.
He met his amazing wife Dot (Dorothy Louise Clark) on a triple-blind date with Dot's two brothers and sisters-in-law after a bird hunting trip with the boys. He was not scared off by Dot's brothers and their wives, and asked Dot to marry him after just a year. They were married on January 20, 1990, at the First Christian Church of Gallatin, Missouri.
The couple welcomed two children, Aleta Yvonne and Cody William to their marriage. They absolutely love their first grandson, Jullian Jay Harris, St. Joseph. Tom was stern, but loving, and the family enjoyed many a Friday night pizza and movie nights, putting together puzzles every Christmas, having Nerf wars, and playing tag while he and the kids were waiting to get on the bus before school. He and Dot instilled in them the value of hard work, a strong work ethic, commitment to finish anything you start, and the love of Jesus. 
The master of many trades, if Tom saw it, he could build it. After refurbishing and expanding a home that the family lived in for 25 years, Tom designed and built their dream home on a beautiful piece of land that has great views from every window. Together, he and Dot watched thousands of glorious sunsets. He also enjoyed hunting turkey and deer there. Tom farmed from 2018-2022, raising cattle, corn, soybeans, and hay on the property. 
Always willing to lend a hand, he was the first one to show up to help everyone. He didn't mind allowing people to borrow anything he had, but you better bring it back! Tom had a very deep sense of right and wrong, and his moral compass was always due north. A strong follower of his faith, Tom enjoyed many projects and benefits with the Knights of Columbus, including chairing the annual Tootsie Roll Drive, which raised almost $114,000.
Traveling was a favorite past time for Tom and Dot, and they were fortunate to do a lot of traveling throughout their marriage. His favorite places to visit were Colorado, Idaho, Oregon and Michigan. He loved the huge redwoods and sequoias of northern California, the Grand Canyon and Death Valley (not so much). He visited all but 10 of 48 continental United States including many of his favorite spots captured in the westerns he loved to watch. 
Tom was an excellent vegetable and flower gardener, in addition to farming. Like those who grow things, he loved spring and summer, but hated fall because everything died. He loved to camp, take in the beauty of nature and fishing and hunting pheasant with family and friends. He enjoyed taking many fishing trips with his brothers and friends, hosting family every Memorial Day weekend taking them to his favorite fishing holes. 
Surviving Tom is the love of his life, Dot, of the home; his daughter, Aleta Yvonne Theisen and grandson, Jullian Harris, St. Joseph; and son Cody William Theisen, Gower, Mo; Tom's mother, Yvonne Theisen of Marcus, Iowa; his father-in-law, William C Clark, Pattonsburg, Mo; siblings Jane (Jim) Sternhagen, Yankton, SD; Doris (Doug) Heiliger, Sheldon, IA; Rose (Gregg) Colling, Sioux Falls, SD; Margie (Mark) Goergen, Alton, IA; Janet (Melvin) Locke, Sibley, IA; Richard (Holly) Theisen, Merrill, IA; Linda (Jerry) Moser, Marcus, IA; David (Jodi) Theisen, Marcus, IA; Carol Braun (Matt Jonas), Remsen, IA; Bonnie Behr, Luverne, MN; Connie (Alan) Peterson, Remsen, IA; and Fred (Jodi) Theisen, Alta IA, along with 8 aunts and uncles, 50 nieces and nephews, and 34 great-nieces and great-nephews, with three on the way, and a huge extended family. He is also survived by Brothers-in-law and Sisters-in-law William (Carrie) Clark Four Seasons, MO; Ricky (Kim) Clark Independence, MO; and Ruby Kay (Patrick) Edwards, Stanberry, MO. 
Tom was preceded in death by his father, Ivan C. Theisen, his mother-in-law, Gloria J. Clark and sister Suzanne Theisen. Grandparents John and Anna Theisen, James and Agnes Muller, Ralph and Ruby Fulton, and John and Dorthy Clark as well as 28 aunts and uncles. 
Tom never met a stranger leaving behind many friends that were more like family. 
Join us all in celebrating Tom's life. Visitation is on Wednesday, October 18, 2023, from 7pm-8:30pm at Our Lady of Guadalupe Catholic Church, 4503 Frederick Avenue, St. Joseph, Missouri. A Rosary is at 9:30am followed by a Mass of Christian Burial to begin at 10am on Thursday, October 19 at Our Lady of Guadalupe Catholic Church. A lunch will be hosted by the church after the service. The burial will follow at Calvary Cemetery, in Plattsburg, Missouri. 
Tom asked that in lieu of flowers, memorial donations be made for St. Jude's Children's Hospital to help find a cure for cancer, because no child should ever have to endure the terrible disease the way he did. Donations can be made at the time of the visitation and funeral.
Tweet
Share
Link
Plus
Pin
---