In Remembrance of Terry West

Terry West
Date of Death: 12-26-2018
Burial: Hebron Cemetery
Funeral Service : 12-31-2018
---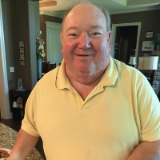 Terry Lee West, 67, of Cameron, MO formerly of Edgerton, MO passed away suddenly at his home December 26, 2018.
He was born on May 14, 1951 to Clarence and Laura Lee (Foster) West.
Terry graduated in 1969 with a full ride scholarship to Northwest Missouri State. He lived most of his life in the area but spent 4 years living and working in London, England.
Terry never met a stranger. He knew everyone and if he didn't, he surely would. Terry had the "gift of gab" and could tell the funniest stories and jokes. He always made us laugh and want more. His heart was huge as he helped many people and would give strangers the shirt off his back.
He was preceded in death by his parents.
Terry is survived by his two daughters, Trini Lee (Mike Kline), KY and Alicia Dawn West, Sacramento, CA; grandchildren, Alexzanderia Sirmans (Jake Stinnett), Cessaly Sirmans (Ronnie Allen), and Lexi Krouse; great-grandson, Beau; brothers and sisters, Micky Pence, Clareece West, Debbie Miller, Tina Hadley, Marty Goucher, Curtis Birchette, Al Matthys and Jimmy Hughes; and dear friend of more than 30 years, Sharon Evans; other relatives and many friends.

Memorial Service: 11:30 a.m. Monday, December 31st at Hixson-Klein Funeral Home, Smithville, MO with visitation from 10:00-11:30 a.m. prior to the service.
In lieu of flowers, donations may be made to Hebron Cemetery.

Tweet
Share
Link
Plus
Pin
---