In Remembrance of Short Jackson

Short Jackson
Date of Death: 08-31-2017
Burial: Blakely Cemetery
Funeral Service : 09-05-2017
---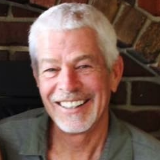 Short Jackson, 59, of St. Joseph, MO passed away August 31, 2017.
Short Jackson was born in St. Joseph, MO to James and Jerry Jackson. He grew up in the Gower-Easton area, attending high School at East Buchanan, graduating in 1976. As many knew, he excelled in an array of athletics, securing him a scholarship at William Jewell College, where he became a passionate member of the Sigma Nu fraternity.
In 1983, he married the love his life, Moni. Together, they raised three beautiful children: Jeron (Zach) Traphagan, J.B., and Jess. They made their home in St. Joseph, MO, but it was across the entire Midwest where Short made his living, working and traveling as a timber buyer for Midwest Walnut Company.
Short had an unmatched passion for life, and all the things that made it great. He loved spending summers on the water with his family, golfing with friends, hangin' on the back deck with his dog, Snoop, and buying more tennis shoes & bucket hats than any one person needs. But most of all, Short loved being a "Pa Pa" to Coy – his first grandchild.
He was a member of Charity Zeredatha Lodge #189 and Moila Shrine.

He is preceded in death by: his father, Jim; niece, Courtney Leigh; brother-in-law Joel Lautaret; mother-in-law Mary Ann Paul.; paternal grandparents, Rufus & Grace Jackson; maternal grandparents, Pern Easter & Ethel Merriott
Survivors include: wife, Moni; children, Jeron (Zach) Traphagan, J.B., Jess; grandson, Coy Traphagan; mother, Jerry Jackson; brother, Jay (Linda) Jackson; father-in-law, Dick Paul; nieces, Lyndsay (Jason) Crum, Jasmyne Lautaret; nephew, Colby Bradford; great nephews & niece, Jackson, Lucas and Jaylyn Crum.

Funeral Service: 1:00 p.m. Tuesday, September 5th at the Gower Christian Church AFC Building, Gower, MO
Burial: Blakely Cemetery, Easton, MO
Visitation: 5:00-8:00 p.m. Monday, September 4th at the Gower Christian Church AFC Building
Donations may be made to the Gower Christian Church, or to Moila Shriners
Arrangements by Hixson-Klein Funeral Home, Gower
Tweet
Share
Link
Plus
Pin
---