In Remembrance of Shirley Boner

Shirley Boner
Date of Death: 08-20-2022
Funeral Service : 08-26-2022
---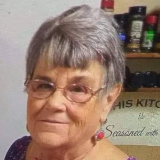 Shirley Ann Boner, 70, of St. Joseph, MO formerly of Plattsburg, MO passed away on August 20, 2022, in her home surrounded by her loving family.
Shirley was born on February 25, 1952, in Smithville, MO to Joe and Nancy Streeter. She grew up in Plattsburg, MO, where she was a lifelong resident. On December 31, 1972, she was united in marriage to Bill Boner and together they raised two children, Shawna Boner and Joseph "Joe" Boner.
For many years, Shirley worked at Clinton Manor in Plattsburg. She loved her job working with the elderly as a caregiver and later as an Activity Director. In 1989, she received the Missouri Community Betterment Award, honoring her for her work to provide gravestones for the residents without family. After her time at Clinton Manor, Shirley worked as a custodian at the Plattsburg School District until her retirement.
Shirley was a member of the of the Broadway United Methodist Church in Plattsburg and the United Methodist Women's group. She was also a member of the Plattsburg American Legion Auxiliary.
She was preceded in death by her parents, Joe and Nancy Streeter; infant brother, Bobby Joe; and her husband, Bill Boner.
Shirley is survived by her daughter, Shawna Boner (Dorsey); her son, Joe Boner (Sarah); two granddaughters, Bobbie Bozarth (Shai) and Aimee McLallen (Sam); sister, Sharon Wilson; nephew, Rick Herron; and niece, Carrie Herron.
The family will be conducting a Memorial Service at 2:00 p.m. Friday, August 26th at the Broadway United Methodist Church in Plattsburg, MO with visitation one hour prior to the service.

Tweet
Share
Link
Plus
Pin
---