In Remembrance of Samuel Martin

Samuel Martin
Date of Death: 09-26-2021
Funeral Service : 10-10-2021
---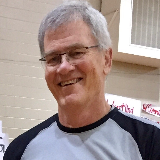 Samuel Allen Martin, 68, of Plattsburg, MO passed away September 26, 2021.
He was born on June 7, 1953, to Samuel Elijah and Ruth Marie (O'Neal) Martin. He grew up in Lincoln, NE and Cheyenne, WY. Sam graduated from Lincoln Northeast High School and received his Bachelors Degree in Accounting from Nebraska Wesleyan University. He was later inducted into the Athletic Hall of Fame at both schools for his wresting and football achievements. Sam also went on to compete in 2 Olympic trials for wrestling. He later received his Masters in Business Administration at Rockhurst College in Kansas City, MO.
On June 2, 1979, he was united in marriage to Kathy Lynn Hampton. After their marriage they lived in Kansas City and moved to Trimble in 1984, then to Plattsburg in 1996 where they made their home. Sam worked as an accountant and a controller for several companies, most recently for McCormick Distillery and Davinci Roofscapes. He served on the Clinton County R3 School Board for 9 years with 4 of those years as President. Sam also served on the board at Specialty Industries in St. Joseph for over 30 years, including being an Officer and Board President multiple times. 
For 36 years, Sam shared his love for wrestling by volunteering with all phases of the Plattsburg Wrestling Program from youth through high school with boys and girls. He ran multiple marathons and did triathlons. Sam was an avid reader and loved listening to music. Sam was a man of high character and truly loved giving back. He was a wonderful husband and dad. Most of all he loved being a grandpa to his 6 grandchildren. 
He was preceded in death by his mother Ruth Martin, his father and step-mother Sam and Wilma Martin, his brother-in-law Scott Pettit and his cousin Chuck Dooling. 
Sam is survived by his wife Kathy Martin; sons Brian Martin and Colby Martin; grandchildren Kami, Brayden, Colton, Caysen. Colby, Jr., and Callen; sister Sherry Pettit; brothers Ron (Patsy) Martin, Bill Martin, and John Martin; cousin Joe (Tina) Dooling; other relatives and many friends. 
A private family service will be held. 
There will be a public visitation from 2:00-3:00 p.m. with a public memorial service at 3:00 p.m. Sunday, October 10th in the Performing Arts Center at Plattsburg High School ending with an honorary lap around the track in memory of Sam for all who are able to join.
Donations may be made to the Sam Martin Memorial Fund. 
Arrangement by Hixson-Klein Funeral Home, Gower.
Tweet
Share
Link
Plus
Pin
---