In Remembrance of Roy William Wyatt, Jr.

Roy William Wyatt, Jr.
Date of Death: 03-14-2021
Funeral Service : 03-14-2021
---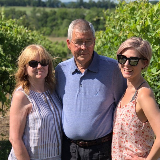 It is with profound sadness we announce the passing of Roy William Wyatt Jr (75) on March 14, 2021. Roy left this world with his wife and daughter by his side after a short battle with cancer. He was a light in our lives that is truly impossible to summarize. 
In 1946, Roy was born to Alice Jester and Roy Wyatt Sr in Kansas City, KS. He was the eldest of three boys. Roy lived in the Humansville, Mo area throughout his childhood and it was during that time he developed a love for cars. 
Roy worked in auto sales for nearly 50 years, 37 of which were spent at Kindred Chevrolet in Smithville, MO. He absolutely loved his job. His kind and honest nature kept generations of families coming back to see him. He was often the first to arrive and last to leave, right up to his retirement in the spring of 2020. Roy sold Chevy's, but his favorite car was his plum colored 1974 Triumph TR6, which he restored and enjoyed showing at the Kansas City All British auto shows. 
The most important thing in Roy's life was his family. He was a devoted husband to Brenda, whom he married in 1976.  They enjoyed traveling anywhere with sunshine, but loved being home best. He always had a home improvement project going, and created an outdoor oasis for he and Brenda to enjoy.  He made her coffee each morning and they watched their stories each night...He loved "The Young & the Restless". They did everything together. 
Roy was a doting father to Ashley. She was the apple of his eye and he was beyond proud of her accomplishments. Ashley is a figure skater and Roy was a true skating dad. Often taking her to the rink at 4:00 am and back again in the afternoon. He and Brenda traveled all over the country to catch her shows once she turned professional. He supported her dreams 100%. 
If you knew Roy, one word is all you need to describe him; Kind. He never met a stranger, and could rarely go out without seeing someone he knew. Roy had a unique chuckle that will be dearly missed. He could set up a joke like a pro, but rarely remembered the punchline. He loved pie and would find humor that he left us on "Pi Day". He always had a house full of animals, but the most important was his cat Ella, who watched over him until his final days. 
Roy was preceded in death by his parents Alice and Roy Sr; Stepfather Harold; Brother Andrew. 
He is survived by his wife Brenda and daughter Ashley; Brother Dale; Several nieces and nephews, and a loving extended family. 
A celebration of Roy's life will be held in the Spring of 2021, details yet to come.
In lieu of flowers the family welcomes you to donate to the Professional Skaters Foundation in Roy's memory.   The PS Foundation supports professional skating coaches with scholarship opportunities and financial aid. Help Roy continue to be a skating dad. 
Info and ways to donate:
https://skatepsa.com/foundation or by PayPal:  https://www.paypal.com/donate/?token=_KH3QTaRgg8aelbTgUZOK9CRpKQrdbZOXe2Cb5O7k5ng_rqSz_wQ_P-4_Pa1m15VLat1JED2zl7fQNLQ 
By Mail:  The Professional Skaters Foundation C/o The Professional Skaters Association 3006 Allegro Park Lane, SW#1Rochester, MN 55902

Tweet
Share
Link
Plus
Pin
---