In Remembrance of Roy Spicer

Roy Spicer
Date of Death: 09-20-2022
Burial: Community of Smithville Memorial Cemetery
Funeral Service : 10-08-2022
---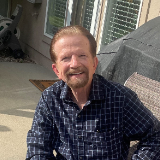 John Leroy Spicer, 71, of Kansas City, MO passed away September 20, 2022.
He was born on September 18, 1951, to John Leroy and Marjorie Lenor (Lynn) Spicer in Leon, IA. Roy grew up in Kansas City and graduated from Oak Park High School and later attended UCLA where he studied business management.
Roy owned A-1 Printing Company in Kansas City. He was an avid softball player and coached little league baseball. Roy also enjoyed country dancing, traveling, bowling, fishing, kayaking, hiking and being outdoors. He was involved in several business networking groups in the Kansas City area.
He was involved in the Catholic Church and was a Boy Scout Leader. 
Roy was preceded in death by his son John Spicer; his parents Roy and Marjorie Spicer; his sister Diana Spicer.
He is survived by his children Jennifer Babbitt. Nicole Phillips and husband Charles Hornsby and Russell Spicer and wife Catherine; grandchildren Brooke (Jason) Adamson, Nicholas Lane, Joseph Nantz, James Nantz, Kyler Gaddis, Kaleb Gaddis, Olivia Gaddis and Hope Billinger; great-grandchildren Gracelynn, Gentry, Gemma, Graham, and Maddy; brother James Spicer and wife Meltim; nephew Cem; niece Dilara; other relatives and many friends. 
 Visitation: 5:00-6:00 p.m. with Memorial Service at 6:00 p.m. Saturday, October 8th at Hixson-Klein Funeral Home, 104 W. Church Street, Smithville, MO.

Burial:  Community of Smithville Memorial Cemetery, Smithville, MO
Tweet
Share
Link
Plus
Pin
---