In Remembrance of Rosemary Ingle

Rosemary Ingle
Date of Death: 08-02-2019
Burial: St. Joseph Catholic Cemetery
Funeral Service : 08-05-2019
---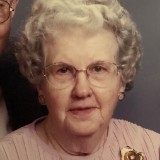 Rosemary Ingle, 95, of Gower, MO passed away, Friday, August 2, 2019 at her home.
She was born on September 20, 1923 to David and Margaret (Gregory) Fisher in Buchanan County, MO. Rosemary grew up on her family farm near Easton and graduated from Gower High School. She served in the U.S. Navy (WAVES) during WWII where she met and married James E. Ingle in Jacksonville, FL. They started their married life in North Carolina, where their first three sons were born. In 1951 the family returned to her farm near Easton, MO, where the remaining children were born. In 1970 they moved to Gower, MO where they made their home. Her husband preceded her in death on July 22, 2008.
Rosemary was a homemaker and managed their rental properties. She was a member of St. Joseph's Catholic Church for many years and attended St. Ann's Catholic Church in Plattsburg. Rosemary was a member of the Gower American Legion Post 393. She was proud of her military career as well as her three oldest sons who served concurrently during the Vietnam Era. She faithfully sent letters to them. Rosemary was a dedicated wife, mother, grandmother, and great-grandmother and enjoyed hosting holiday gatherings. Rosemary was fond of her two companion cats, Sparky and Toby. She took special delight in Ingle family fishing trips to Canada with her husband and family. She took pride in creating stained glass with her husband and collecting depression glassware. She was a devoted EWTN listener where she deepened her faith daily. For the last few years, she hoped for her heavenly home. 
She was preceded in death by her parents; brothers, Gilbert, Gregory, Vincent and Bernard Fisher; sister, Marguerite Huber; infant twin daughters, Margaret Rose and Martha Marie; son, Michael W. Ingle; daughter-in-law, Nancy K. (Hawk) Ingle; son-in-law, Dennis Ratfliff; and grandson, Jeremy S. Ingle. 
Rosemary is survived by her children James D. (Rosalie) Ingle, Gower, MO; Jerry (Elaine) Ingle, Country Club, MO; Marianne Ratliff, La Quinta, CA; Larry Ingle, Easton, MO; Diana (Stephen) Hilliard, Kansas City, MO; Patricia (Randy) Gladish, Kansas City, MO; daughter-in-law Mary Ingle Crouch, Paola KS; seventeen grandchildren and thirty-four great-grandchildren; other relatives and many friends.
Mass of Christian Burial: 10:30 a.m. Monday, August 5th at St. Joseph Catholic Church, 107 S. Shortridge St. Easton, MO. 
Burial with Military Honors: St. Joseph Catholic Cemetery, Easton, MO. 
Rosary: 6:00 p.m. Sunday, August 4th with visitation following until 8:00 p.m. at the church.
In lieu of flowers donations can be made to: the little sisters of the Lamb, 36 S. Boeke St Kansas City, KS 66101 or Benedictines of Mary, Queen of Apostles, Abbey of Our Lady of Ephesus PO Box 303 Gower, MO 64454.
The family expresses gratitude and appreciation to the Mosaic Hospice and Freudenthal Home Health Caregivers for their compassion and loving care.
Arrangements: Hixson-Klein Funeral Home, Gower, MO

Tweet
Share
Link
Plus
Pin
---