In Remembrance of Ronald Hill

Ronald Hill
Date of Death: 10-06-2022
Burial: Kingston Cemetery
Funeral Service : 10-14-2022
---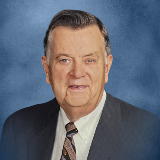 Ronald Keith Hill, 90, passed away on Thursday, October 6, 2022, in Hanover, NH.Ronald was born on May 26, 1932, in New York Township, Caldwell County, Missouri to Hazel Harriet (Frazier) Hill and Gerald Drexel Hill. He grew up on the Hill family farm in Caldwell County and graduated from New York High School in 1950 where he was active in team sports. He attended Trenton, MO Junior College and Central Missouri State College in Warrensburg, MO before serving in the United States Army from 1953 – 1955, where he attained the rank of sergeant. 
On August 5, 1956, Ronald married his high school sweetheart Marian Shirley Hartley at the Federated Church in Kingston, MO. They were married for more than 52 years before Shirley passed away in March 2009.
Ron and Shirley lived in Manhattan, KS while Ron worked to receive his degree at Kansas State University. He graduated from K State in 1960 with a degree in Agricultural Education. They moved to Richmond, MO where he took a job as the vocational agriculture teacher and Future Farmers of America advisor at Richmond High School. A few years later he became the manager of the Coop grain elevator in Richmond. 
In 1968, Ron, Shirley and their three children moved to a new home in Smithville, MO. Ron joined the Feed Division of Farmland Industries, Inc. in Kansas City where he worked for the next 28 years as a procurement coordinator for several feed mills in the upper Midwest. He retired from Farmland in 1996. Ron was a strong supporter of education, the Smithville school system, and volunteer service in his community. He was elected to four terms on the Smithville School District school board, serving from 1970 to 1982, and was an active member of the Smithville Kiwanis Club for many years. He and his family were also active members of the Smithville United Methodist Church.
Ron enjoyed traveling and his family took a number of cross-country trips with their pop-up camper to see the national parks and historic sites, and to visit relatives. Ron and his family also made regular weekend trips to Kingston and Hamilton to see his and Shirley's parents and to spend time on the farm. After their retirement in 1996, Ron and Shirley traveled around the United States with their RV, including a trip to Alaska and regular trips to visit their children and grandchildren. The mountains were their favorite destination, and they spent a summer working in Grand Teton National Park. Ron enjoyed listening to and watching baseball his entire life, as a Cardinals fan in his early days and as a devoted Royals fan for more than 50 years. In 2013, Ron joined Mary Ann Shannon in a commitment ceremony and they lived the next several years in Liberty, MO, Sun City West, AZ, and Kansas City. In January 2022, Ron relocated to Hanover, NH to live near his oldest son Roger.
Ron was preceded in death by his wife of 52 years Shirley Hill, his parents, his two brothers Don and Bill, and granddaughter Ada Lehnert. Ron is survived by his son Roger Hill and daughter-in-law Janyes Lemons of North Sutton, NH; his son David Hill and daughter-in-law Kristina of Princeton, NJ and granddaughters Anna Hill of Philadelphia, PA, Margaret Hill of La Jolla, CA, and Julia Hill of Princeton, NJ; his daughter Carolyn Hill, son-in-law Andreas Lehnert, and grandsons Felix and Max of Arlington, VA; and Mary Ann Shannon of Kansas City, MO.
Ron loved his family and was very proud of his children and his grandchildren. He will be missed by all who knew and loved him.
Graveside Service: 11:00 a.m., Friday, October 14, 2022, at the Kingston Cemetery, Kingston, MO.
Arrangements, Hixson-Klein Funeral Home, Smithville.
Instead of flowers, the family requests that donations in Ron's memory be made to the Ronald & Shirley Hill Memorial Fund at the Smithville R-II School District Foundation. Donations may be made at https://www.smithvilleschooldistrict.net/page/smithville-education-foundation, or by mail at 655 S. Commercial Ave., Smithville, MO 64089. All funds received will support college scholarships for graduates of Smithville High School.

Tweet
Share
Link
Plus
Pin
---