In Remembrance of Ron Misner

Ron Misner
Date of Death: 03-25-2023
Burial: Terrace Park Cemetery
Funeral Service : 03-31-2023
---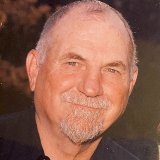 Link to the Zoom Live Stream of the funeral service:  https://us02web.zoom.us/j/86511229168#success
Ronnie Edward Misner, 84 of Kansas City, MO passed away March 25, 2023.

He was born on January 10, 1939, to Charley Edward and Leola Mary (Cummings) Misner in Gilman City, MO. Ron grew up in Kansas City and graduated from North Kansas City High School in 1957 where he was active with football and basketball. He attended Rockhurst University in Kansas City. 
On October 18, 1958, he was united in marriage to Mary Jo Gordon. After their marriage they lived in the Kansas City north area where they made their home and raised their three children.
Ron was active with the NKC Little League Baseball Association where he not only played as a young boy, but he later coached and was an umpire. He enjoyed playing basketball with several leagues until he moved on to golf. Golf was Ron's true love in sports; if there was a golf course in the area, he would find it. Ron was an avid reader, especially mystery books, sportsman, movie buff, newspaper reader, beer and food connoisseur, and was always up for a good challenge. In order to keep it pristine, he was known for spending hours in his yard. Ron loved making people laugh and most of all he loved being with his family and adored his grandchildren and great-grandchildren. 
He was preceded in death by his parents Charley and Leola Misner and granddaughter Ashton Smith.
Ron is survived by his wife Mary Jo Misner; children Denny (Pam) Misner, Lori (Roger) Smith and Marvin Misner; grandchildren Nikki (Todd) Tucker, Hannah (Cody) Hopkins, Tina (Mike) Reed, Ian (Jessica) Flynn, and Louis Misner; great-grandchildren Lexie, Elsie, Jaxon, Vincent, and Teagan; brother Richard (Evelyn) Misner; several nieces, nephews, other relatives and many friends. 
 Visitation: 10:00-11:00 a.m. with Funeral Services at 11:00 a.m. Friday, March 31st at Pine Ridge Presbyterian Church 7600 NW Barry Rd Kansas City, MO 64153
Burial: Terrace Park Cemetery, Kansas City, MO
In honor of Ron's love of sports and his fun, loving spirit, the family requests everyone wear their favorite Royals or Chiefs shirt or your favorite Hawaiian shirt. 
In lieu of flowers donations may be made to the North Kansas City Little League Baseball or the Pine Ridge Presbyterian Church.
Arrangements by Hixson-Klein Funeral Home, Smithville

Tweet
Share
Link
Plus
Pin
---