In Remembrance of Rodger Claycomb

Rodger Claycomb
Date of Death: 05-16-2022
Funeral Service : 06-04-2022
---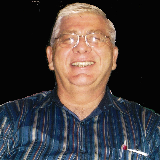 Rodger Eugene Claycomb, 77 of Smithville, MO passed away May 16, 2022.
He was born on January 21, 1945, to Dean Clarence and Ruth Glenda (Harr) Claycomb in Queen, Pennsylvania and graduated with the class of 1962 from Chestnut Ridge High School in Fishertown, PA. Rodger then graduated from the Pittsburgh Institute of Aeronautics in Pittsburgh, PA in 1963 with a Federal Aviation Administration Airframe and Power Plant license. After receiving his license, he started working for North American Aviation in Columbus, OH and then moved on to McDonnell Aviation in St. Louis, MO. In 1965, Rodger enlisted in the United States Air Force and was stationed in San Antonio, TX; Albuquerque, NM; Bien Hoa AFB, Republic of Vietnam; and Eglin AFB, Ft. Walton Beach, FL. 
On May 18, 1968, he was united in marriage to Saundra Lee Pope in Pasadena, MD. After their marriage they moved numerous times. The last time was from the San Francisco Bay area in 1978 when they moved to Smithville, MO where they made their home. Saundra passed away on June 26, 2012.
Rodger worked for TWA for 33 ½ years and later retired from American Airlines in February 2007 after 5 years of service. He was a member of the National Safety Council Labor Division and served as a Union Steward and was on the Safety Committee. Rodger also worked with the Skills USA as a judge in the aviation department. 
He enjoyed creating and designing stained glass suncatchers and recently branched out and started making stepping stones with glass designs. He enjoyed giving his creations to family and friends. He also donated many stained glass creations to the Veterans Community Project to put in the newly built tiny homes; as he felt very strongly about the work being done by the VCP. Rodger was a wonderful and caring father, grandfather, brother, uncle and friend. 
 After the passing of his wife Saundra, in 2012, Rodger was re-united with Donna Virginia (Belles) Vinsky at their 50th class reunion, not having any contact since graduation. Donna became Rodger's significant other, his best friend, traveling companion and care giver. 
He was preceded in death by his parents; half-brother Guy Mock; and sister-in-law Judy (Corle) Claycomb.
Rodger is survived by two daughters, Marlo L. Black and husband Richie of Tonganoxie, KS and Amy G. Buchholz and husband Tim of Kansas City, MO; grandchildren, Richard, Rodger, Ryan, Gillian, Tobi, Ethan, Jessie (James), and Hester; great grandchildren, Caitlin, Declan, Sage and Josie; brothers Larry Claycomb and wife Doris and Robert Claycomb; several nieces and nephews; other relatives and many friends.
Visitation: 3:00 p.m. followed by the Memorial Service with Military Honors at 4:00 p.m. Saturday June 4th at Hixson-Klein Funeral Home, Smithville, MO. 
In lieu of flowers, donations to Veterans Community Project

Tweet
Share
Link
Plus
Pin
---