In Remembrance of Roberta F. Crawford

Roberta F. Crawford
Date of Death: 07-07-2018
Burial: Community of Smithville Memorial Cemetery
Funeral Service : 07-12-2018
---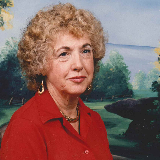 Roberta Francis Crawford, 90, of Smithville, MO passed away July 7, 2018. 
 She was born on April 2, 1928 to Killian and Maybelle (Douglas) Green in rural Clay County near Nashua and Smithville where she grew up and graduated from Smithville High School.
Roberta was a lifelong member of the First Baptist Church of Smithville and was also a member of the Rebekah Lodge in Smithville. She worked as an assistant manger at several different department stores throughout her career. Roberta was very generous to her family and friends, and she made it her mission to even give to strangers and those who were less fortunate. She spent her lifetime unselfishly prioritizing the needs of others above her own.
She was preceded in death by her grandson Terry Alexander Moore, one great-grandchild; one great-great-grandchild; her parents Killian and Maybelle Green and two brothers Bill Green and Pat Green.
Roberta is survived by her children Fred Wayne Moore and wife Shelly, David Moore and wife Vickie and Janice Kay Waitman and husband Bob; grandchildren Dr. Christine Sankpill, Christopher Moore, Aaron Turner and Savanah Vose; six great-grandchildren; two great-great grandchildren; brother Buster (Lois) Green; special friend Jack Youtsey; other relatives and many friends. 
Graveside Service: 1:30 p.m. Thursday, July 12th at Community of Smithville Memorial Cemetery
Arrangements by Hixson-Klein Funeral Home, Smithville.

Tweet
Share
Link
Plus
Pin
---