In Remembrance of Robert "Bob" Maxwell

Robert "Bob" Maxwell
Date of Death: 11-07-2020
Burial: Second Creek Cemetery
Funeral Service : 11-18-2020
---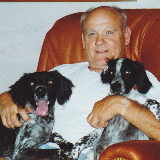 Robert A "Bob" Maxwell of Platte City, MO; 90, passed away peacefully November 7, 2020. Most recently, he was a four + year resident of the Missouri Veteran's Home, Cameron, MO. His family would like to thank the nurses and staff for their excellent care and compassion.
Bob was born Feb 1, 1930 in Grayson, MO to Donald J. & Ethel Maxwell (nee Wilson). He was the middle "rat" of his siblings, Bill and John. The three "rats" learned the value of honest hard work early in their life while growing up in Nashua, MO. 
Bob graduated from Smithville High School in 1949 while also achieving the rank of Eagle Scout.  
Enlisting in the US Navy shortly after graduation, Bob served as a machinist mate aboard the USS Grenadier, (SS-525) 
Upon his return home from the Navy, Bob went to a Welcome Home party in his honor at the Red Crown where he met his wife to be, Genie "Pearl" Rule. Bob and Genie were married November 26, 1955. Later this month they would have celebrated their 65th wedding anniversary. 
Bob decided to pursue his higher education at Northwest Missouri State University, earning his Bachelor's Degree in Secondary Education. He then began his teaching and coaching career in Maitland, Smithville and finally Platte City, MO. He earned his Master's Degree in Education from the University of Missouri-Columbia. His teaching and coaching career spanned over 30 years.
He touched so many lives on and off the football field, the basketball court and of course by teaching Drivers' Education. Oh, there are so many stories…
Anyone who knew Bob knew he loved his family, his farm, his Red Man…but especially his dogs. He was never more content than to be walking in the woods or to return home and have a dog in his lap. 
Bob is preceded in death by his infant son, Scott, wife Genie and younger brother, John.
He is survived by his older brother, Bill Maxwell, Sun City, AZ, daughter Julie and Rick Morgan; O Fallon, MO, son Todd and Melonie Maxwell, Platte City, MO, his grandchildren Katy (Thomas) McCullough, Nashville, TN; Scott (Julia) Morgan, Wildomar, CA; Nick (Becky) Maxwell, Gladstone, MO; Derek "Judge" Maxwell, Salina, KS; two great-grandsons; Lennox and Kendall Maxwell and many, many loving family members and friends. 
Graveside Service: 1:00 p.m. Wednesday, November 18th at Second Creek Cemetery, Kansas City 
Arrangements by Hixson-Klein Funeral Home, Smithville

Tweet
Share
Link
Plus
Pin
---