In Remembrance of Rita (Lemar) Heitman

Rita (Lemar) Heitman
Date of Death: 02-02-2021
Burial: Mt. Auburn Cemetery
Funeral Service : 02-08-2021
---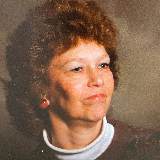 Rita Lea (Lemar) Heitman passed away February 2, 2021 in the presence of her daughters, just as she wanted. 
Rita was born December 4, 1943 in Craig, MO to Russell and Frankie (Wickiser) Lemar. In the second grade Rita's family moved to Graham, MO where they made their home. Avid farmers in Northwest Missouri, she had many memories and stories to tell of growing up on the farm, which her family still farms today. She loved to talk to people, as a little girl she and her sister Rhonda would walk to the country neighbors which was a little hike to socialize and get a jelly and bread sandwich. 
Rita loved writing; she would often talk about how she spent lots of time practicing writing. Anyone who knew her knew of her meticulous penmanship. She also enjoyed typing she was the 5th fastest in the state of Missouri in high school (on a manual typewriter). Rita graduated from Graham High School in 1961. After graduating she attended Business School in St. Joseph Missouri. She then began her career at American Family Insurance. 
On February 20, 1965 Rita was united in marriage to Dennis Michael Boyer, one child born of the union. Dennis passed away as a result of injuries from Vietnam. In the years following she was united in marriage to Larry L Heitman, one child born of the union. She was a stay at home mom for many years before beginning a career as the office manager for Smithville Anesthesia. She became a familiar face as she worked as a receptionist for Wilson and McGovney for many years. After the practice closed, she did medical transcription and patient registration at Spelman/Saint Luke's. 
Rita enjoyed bowling in her younger years acquiring many trophies. She loved to can from the garden, dance, travel, camp and spend time boating (even though she could not swim), and socialize. She made the best buttermilk brownies. If you wanted to make it, she had a recipe for it, whether it be her own or from her collection of cookbooks. She loved to crochet and sew, anything she did you could count on it being exceptional. She loved her family beyond measure. She had frequent conversations with her nieces and nephews. As her health declined she enjoyed catching up with old friends and talking to family. Facetime was a blessing for her to have those far feel close. She enjoyed attending her grandchildren's sporting events, where she wasn't afraid to cheer loud.
Rita was preceded in death by her parents, Russell and Frankie (Wickiser) Lemar; Jack and Alleen Boyer; husband, Dennis Boyer; infant granddaughter, Kaden Lanae Boyer, sister Phyllis Tiedeman; and brother, Gordon Lemar. She is survived by her sister, Rhonda Messner (Roger) of Graham, MO; two daughters, Kendra Clark (Dennis) of Cameron, MO and Brenna Harris (Jason) of Smithville; three grandchildren, Kaden Cheney (David), Korbin Harris and Kolby Harris; great-grandson, Mason Cheney and great grandson, Weston Lee Cheney arriving February 16, 2021 all of Smithville, MO and her furkitty of 17 years, Tootsie .
Special thanks to the compassionate caring staff at Kansas City Hospice and Hopsice House. Thank you to Dr. Pluenneke and the staff @ the University of Kansas Cancer Center, thank you to Dr. Baskins and Janet Jones. Thank you to all her family and friends that took the time to show her how special she truly was. The beautiful irony is that our loss is another's reunion. Though we miss her dearly, her family finds comfort knowing she is reunited with those she has missed for so long. 
Funeral Services: 1:00 p.m. Monday, February 8th at Hixson-Klein Funeral Home, Smithville with visitation one hour prior to the service. 
Burial: Mt. Auburn Cemetery, St. Joseph, MO.
Tweet
Share
Link
Plus
Pin
---