In Remembrance of Richard "Rich" Stevens

Richard "Rich" Stevens
Date of Death: 05-31-2022
Burial: Allen Cemetery
Funeral Service : 06-03-2022
---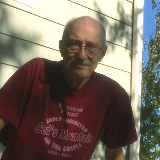 Richard L. "Rich" Stevens, of Gower, MO passed away, to Heaven on May 31, 2022 at his home.
He was born on March 22, 1943, in Albany, MO to Frosty and Wilma Stevens, who preceded him in death. 
After graduating from high school and college he pursued his passion of flying airplanes. In 1965 he took flying lessons at St. Joseph Flying Service which led him to a 47-year career of flying for several companies in St. Joseph. He worked for Wire Rope Company, American Electric and he retired from Berkel and Company in Kansas City in 2012. He always thanked the Lord for allowing him to have a career he truly enjoyed and great companies to work for.
Rich served his Lord and Savior for over 50 years in many ways. He was a bible study leader, was involved in men's fellowship, many outreach programs, and the music ministry at church. He always considered it to be an honor and privilege. He enjoyed camping, fishing, tennis, gardening, strumming his guitar, remodeling projects, and his daily walks. His greatest joy was being with his beloved family.
Rich is survived by his wife, Linda, of the home; daughters, Julie Stevens, Marlee Stevens; son Craig (Vickie) Stevens; eight beloved grandchildren; eleven great-grandchildren; sister, Barbara (Dave) Mitchell; sister-in-law, Dorothy Hirt; brother-in-law, Bill (Becky) Reed; many special cousins, nephews, nieces, and friends.
Funeral Service: 11:00 a.m. Friday, June 3rd at Hixson-Klein Funeral Home in Gower, MO.Burial: Allen Cemetery, Gower.
Memorial donations may be made to the First Baptist Church of Gower Youth Department or the Noyes Children's Home in St. Joseph, MO.

Tweet
Share
Link
Plus
Pin
---