In Remembrance of Reid M. Lair

Reid M. Lair
Date of Death: 09-10-2017
Burial: Clear Springs Cemetery, Tecumseh, MO
Funeral Service : 09-13-2017
---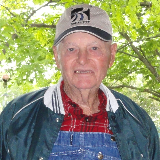 Reid Lair, of Smithville, MO passed away, Sunday, September 10, 2017 at his home.
He was born on February 8, 1936 to Hugh and Dollie (Bierbower) Lair in Leota, MO. Reid grew up and attended school in Leota.
On May 18, 1954 he was united in marriage to Shirley Evans. Reid moved his family to Platte County from West Plains in 1965. He was a farmer most of his life.
Reid was a deacon at Paradise Baptist Church and Little Platte Baptist Church. He was very active in church and his community.
He was preceded in death by his parents, brothers, Arthur and Virgil Lair, sister, Marguerite Halbrook, and son, Robbie Lair.
Reid is survived by his wife, Shirley; children, Rick Lair, Vicky (James) Meyer, and Cindy Lair; grandchildren, Michelle Benson, Stacy Benson, Alison (JR) Holloway, Megan (Ryan) Pearce, Hannah (Richard) Clarkson, and Channing (Joe) Paine; great-grandchildren, Nathan, Rylee, Jeremiah, Morgan, and Nevaeh; brothers, Rueben Lair and Bill (Linda) Lair; several nieces and nephews, other relatives and many friends.
Funeral Services: 7:00 p.m. Wednesday, Sept. 13th at Hixson-Klein Funeral Home, Smithville with visitation one hour prior to the service. Funeral
Service: 3:00 p.m. Friday, Sept. 15th at the Clear Springs Baptist Church, Tecumseh, MO with the visitation one hour prior.
Burial: Friday at Clear Springs Cemetery, Tecumseh, MO.
Arrangements, Hixson-Klein Funeral Home, Smithville, MO.


Tweet
Share
Link
Plus
Pin
---