Wanda White
Date of Death: 05-12-2023
Funeral Service : 05-12-2023
---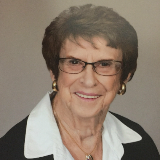 Wanda L. (Jones) White of Kansas City, MO., formerly of Richmond, MO and Alamo, TX, passed away peacefully at home May 12, 2023, at the age of 90. A private scattering of cremains will occur at a later date.
Memorial contributions may be made to Children's Mercy Hospital, 2401 Gillham Road, Kansas City MO 64108 or the United Christian Presbyterian Church, 501 N Spartan, Richmond, MO 64085. 
Wanda was born January 12, 1933, in Monroe County, MO. to Vern and Maggie (Howell) Jones. She graduated from Paris HS in Paris, Missouri in 1951. She lived in Richmond, MO for over 30 years and retired from the Richmond School District as bookkeeper and treasurer in 1986. She loved her time in Richmond and being employed at the school district and the many friends in the community. She enjoyed many years at Pomme de Terre lake. She moved to Alamo, TX and resided in Casa de Valle RV Park, which she called home for nearly 30 years. During retirement, she enjoyed dancing, bingo, assorted card games and motorcycle rides. She enjoyed many friendships throughout the years and remained a member of the VFW Auxiliary. She loved many sports including NASCAR, College Football, Kansas Jayhawks Basketball and her beloved Kansas City Chiefs. 
Wanda was preceded in death by her parents, her brother Clyde Jones, her sister Gerry Cain, and Robert L. White, father of their children. She was also preceded in death by her special friend and dance partner, Cecil Manly of Wamego, Kansas.
She is survived by a daughter, Barbara Collins, Kansas City, MO., sons Dale (Carmel) of Kansas City, MO., and Kenny (Jaclyn) of Cape Coral, FL. She has 7 grandchildren Deanna Osborne (John Spalding) of Pearland, Tx, Shannon (Ryan) Miles of Kansas City, MO, Aaron (Katie) of Orion, MO, Jake White of Austin, Tx, and Kyle White of Louisville, KY, Heather Leckey (Monty Fulghum) of Olathe, KS and Hilary (Cameron) Erlandson of Kansas City, MO. She is survived by 9 great grandchildren Dillian Biddix, Emerson Biddix (Andrew Querrey), Cooper Osborne, Elaina Osborne, Caleb Erlandson, Kiersten Erlandson, Zander Powers, Harper Powers and Kenna Fulghum, and a great great granddaughter Adelina Miles Querrey. She is survived by her niece, Sandy (Mike) Cain Konovalske, Bonner Springs, KS.

---