Victor C. Roe
Date of Death: 09-27-2021
Interred: Perrin Cemetery
Funeral Service : 09-27-2021
---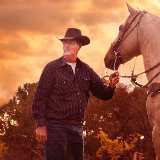 KING CITY, MO - Victor Claude Roe, 69, died September 27, 2021 in his home surrounded by his family. He was born on December 27,1951 in Smithville, MO, the son of Eugene Merle Roe and Iva Nell Huffman (both deceased).
After graduation, Vic served in the United States Navy from 1970 to 1978 during the Viet Nam era. He married Judithanne Hale on July 8, 1972 in New Jersey; together they had two children, Victor Hale Roe and Katrina Teresa Roe. After Vic and Judy divorced, he married Rickey Louise (Gutermuth) Barthold on October 30, 1982 in MO; Rickey brought her two children into the marriage, Aron Christine Barthold and Matthew Frederick Barthold. 
Vic retired from Silgan Containers in St. Joseph, MO after 35 years. He made lasting friendships with several of his co-workers who were always there, right up to the very end. 
Vic, also known as "Big Vic", was often compared to the "Marlboro Man", rough, tough, and good looking - a man who was never afraid to take on any task. Some of Vic's favorite pastimes were anything cowboyin': working cattle, team roping, calf roping, dog training, trail riding, camping, grandkids, and sittin' in a lawn chair drinking beer with family and friends. Over the last few years he spent winters with his wife, Rickey, as snowbirds in Quartzsite, AZ where he joined the VFW Post 769. They enjoyed being together in the warmer weather, making new friends, riding trails on the Polaris Ranger, and watching the Arizona sunsets. 
In addition to his parents, Vic was predeceased by his brother, Jeffrey Merle. Surviving in addition to his wife, Rickey (Barthold) Roe, are his sons: Victor Hale (wife, Sonya) of Union Star, MO; and Matthew Frederick (wife, Amy) of Bloomington, IN; daughters, Katrina Teresa (husband, Karl) of Clovis, New Mexico; Aron Christine (husband, Jason) of Utica, IL; thirteen grandchildren; three sisters: Donna Jean Hickman (husband, Wayne) of Fort Worth, TX; Linda Nell Roe of Lathrop, MO; Teresa Mae Pitts (husband, Everett) of Reynoldsburg, OH; many nieces and nephews, Judithanne Hale, and many other close friends. 
Vic chose to be cremated with his ashes being interred with military honors at the Perrin Cemetery following his Celebration of Life - planned for some time in the Spring. 
His cowboy friends might appreciate this quote from his final day: "I guess I'm gonna ride this bronc til the end."

---