Truman Lee Buckler
Date of Death: 10-16-2019
Interred: Dearborn Cemetery
Funeral Service : 10-18-2019
---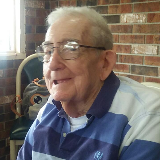 Truman Lee Buckler, 84, of Dearborn, MO passed away Wednesday, October 16, 2019.
He was born on July 13, 1935 to Truman Calvert and Louise (Rutherford) Buckler in Rushville, MO. Truman grew up near Camden Point where he attended school.On February 21, 1978 he was united in marriage to Betty Lou McMillian. After their marriage they lived in Dearborn where they farmed and made their home. After their retirement they moved to Climax Springs, Lake of the Ozarks for a few years and then returned to Dearborn. His wife, Betty, preceded him in death on March 28, 2016.
Truman was a member of the Masonic Lodge in Camden Point.
He was also preceded in death by his parents; brother, Jim Jones and Bill Turner; sons Steve Buckler and Ray Buckler; grandson, Mark Shanks; and son-in-law, Larry Shanks.
Truman is survived by his daughter Debbie Shanks; son Lonnie Buckler and wife Misti; step-daughter and caregiver Teri Peck and husband Todd; several grandchildren and great-grandchildren; sisters, Norma Jean, Rose, Mary Lee, Darlene, and Arlene; brothers, Simeon and John; several nieces and nephews, other relatives and many friends.
Graveside Service: 10:00 a.m. Friday, October 18th at Dearborn Cemetery, Dearborn.
Arrangements Hixson-Klein Funeral Home, Edgerton

---