Tom Hanks
Date of Death: 05-01-2023
Funeral Service : 06-10-2023
---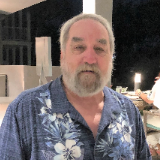 Thomas Clinton Hanks, 70, of Smithville, MO passed away May 1, 2023.
He was born on August 18, 1952, to Donald Ward and Mary Kathryn (Byrd) Hanks in Smithville where he grew up. Tom graduated in 1971 from Wentworth Military Academy and in 1973, he graduated from Wentworth Military Junior College all in Lexington, MO. 

Tom was preceded in death by his parents Ward and Kathryn Hanks.

He is survived by his brother Don Hanks and wife Rita; sisters Glenda Cantwell and Sarah Singleton and husband Shelby; nieces and nephews Todd (Yvette) Hanks, Nancy Hanks, Randy Hanks, Erica (Brenden) McCullough, Matt (Rebecca) Witt, Justin Singleton and Amanda Singleton; three great-nieces and nephews; good friend Diane Wolf; other relatives and many, many friends.
Celebration of Life will be held at the Smithville American Legion on 
June 10th from 11:30-2:00 with Services at 11:30 a.m. and lunch following until 2:00 p.m. 
In lieu of flowers donations to the Smithville American Legion Post #58

---