Stephen Daniels
Date of Death: 11-16-2020
Interred: Leavenworth National Cemetery
Funeral Service : 11-23-2020
---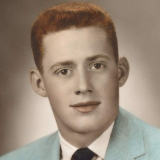 Stephen Douglas Daniels, 80, of Gower, MO passed away, Monday, November 16, 2020.
He was born on March 29, 1940 to Morton and Mary Jane (Gibson) Daniels in St. Joseph, MO. Steve grew up in the Gower area and graduated from Gower High School in 1958, where he helped with the family farm and rode his horse every day. He was active in football and track in high school, then went on to Northwest State University in Maryville, MO majoring in Engineering. After that he was drafted by the U.S. Army as an Engineer and received medals as a marksman, probably because of all the squirrels he shot while growing up. He was a member of the Gower Christian Church.
After the Army he moved to Tulsa, OK where he owned and operated a construction company, before moving to Wilcox, Arizona, then back to Gower in 2005. He was a jack of all trades. He would fix or build anything that you would ask for. 
He was preceded in death by his parents, Morton and Mary Jane Daniels, and a baby sister Sarah. 
Steve is survived by his two sons, Stephen Joseph and Michael Douglas and three sisters, Marsha Arzberger of Alabama, Diana Sue (Forrest) Whitten of Texas, and Patricia (Daryl) Walkup of Gower; also several nieces and nephews, other relatives and many friends. 
Private Family Graveside with Military Honors: Leavenworth National Cemetery, Leavenworth, KS.

---