Shirley M. Schuster
Date of Death: 07-02-2022
Interred: Allen Cemetery
Funeral Service : 07-02-2022
---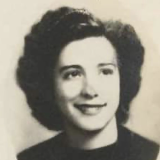 Shirley M. Schuster, 95, of Gower, MO passed away July 2, 2022.
She was born on March 12, 1927 to Raphael E. and Jimmie Lou (Ransdell) Jackson in Easton, MO. Shirley was raised in Gower and in 1945, she graduated from Gower High School.
On July 3, 1948, she was united in marriage to Waldo Everett Schuster. After their marriage they lived in Gower where they made their home. Waldo passed away on August 21, 2004.
Shirley was a talented artist and loved to dance. She is survived by her sons Dr. Steven D. Schuster and wife Joyce and John E. Schuster; grandsons Christian H. Schuster and Chris Barnhill and wife Christie; four great-grandchildren; three great-great-grandchildren; other relatives and many friends.
Family inurnment will be held at a later date.
Arrangements by Hixson-Klein Funeral Home, Gower

---