Shirley Ann Taylor
Date of Death: 04-29-2022
Funeral Service : 05-04-2022
---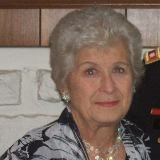 Shirley Ann Taylor, 89, of Excelsior Springs, MO, passed away April 29, 2022.
She was born on May 30, 1932, to Leland Harvey Daniel and Golda Violet (Stites) Liftin in Santa Monica, California where she grew up and then graduated from Santa Monica High in 1950.
On September 3, 1950, she united in marriage to Jesse Lee Taylor. After their marriage they traveled internationally with the military and raised their family. After Jesse's retirement from the military, Shirley stepped into the role of a minister's wife. They served a number of churches in several states, settling in Excelsior Springs in 1995 where they made their home. Shirley had a strong faith and served her churches and ministries proudly. She enjoyed baking, knitting, crocheting and was known for making special gifts for her family and friends. Shirley was a devoted wife, mother and Neema who will be greatly missed. 
Shirley was preceded in death by her husband Reverend Jesse Lee Taylor, Lt. Col. (Ret); and her parents Lee and Golda; and her daughter-in-law Linda (Beamer) Taylor.
She is survived by sons Dan Taylor and David Taylor and wife Rebecca; daughter DeLynn Smith; five grandchildren, T.J. Smith, Mandy and Ed Grindel, Anastasia Ramsey, Elias and Vionne Taylor and Rachel and Eric Moe; nine great-grandchildren Riley, Beau, Gavin, Haddie, Dawson, Elliott, Adaline, Everett and Kaiguro; other family members and friends.
Visitation: 10:00-11:00 am with Funeral Services at 11:00 am Wednesday, May 4th at Mosby Baptist Church, Mosby, MO.
Final resting place at Missouri Veterans Cemetery, Higginsville, MO Donations may be made to Mosby Baptist Church.
Arrangements by Hixson-Klein Funeral Home, Smithville
---