Ronald Rinkenbaugh
Date of Death: 07-23-2022
Funeral Service : 08-18-2022
---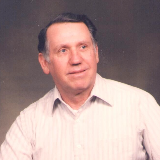 Ronald Lloyd Rinkenbaugh, 85, of Kansas City, MO passed away July 23, 2022.
He was born on September 8, 1936, to Roger and Evelyn (Carpenter) Rinkenbaugh in Richmond, MO. Ron grew up in Kanas City and graduated from East High School and attended Maple Woods Community College. He served his country in the United States Air Force. 
 On September 4, 1965, he was united in marriage to Janet Louise Breig. After their marriage they lived in Kansas City where they made their home.
Ron worked as a fireman for the railroad and later retired as an inspector from TWA/American Airlines after 30+ years of service.  He was a member of the 303rd Air Refueling Wing in Bermuda, the American Legion in Richmond, MO and the NRA. 
His hobbies were flying, model railroads and he loved doing anything mechanical. Ron enjoyed camping and most of all being with family. His ultimate daily goal was to make everyone laugh. He was a wonderful husband, dad, papa and friend who will be missed dearly. 
 He was preceded in death by his parents; his brother and sister-in-law Roger and Esther Rinkenbaugh; his sister Freda Rinkenbaugh and his nieces Sylvia Rikard and Willa Lambros.
Ron is survived by his wife Janet Rinkenbaugh; sons Monte Rinkenbagh and Cary Rinkenbaugh and wife Dana; grandchildren Cary Jr. (Scarlett) Rinkenbaugh, Chandler Rinkenbaugh, Caytlyn Rinkenbaugh, and Christina Rinkenbaugh; great-grandson Mathew Rinkenbaugh; nieces and nephews Karen (David) Skinner, Roger (Judy) Rinkenbaugh, Robert "Bobby" (Pam) Rinkenbaugh, Janet Plattner, and Russell (Nancy) Rinkenbaugh; many great-nieces and nephews; other relatives and many friends. 
Memorial Service with Military Honors will be at 6:00 p.m. with Visitation following until 8:00 p.m. Thursday August 18th at Hixson-Klein Funeral Home in Smithville, MO (104 West Church Street, Smithville, MO 64089)
Arrangements by Hixson-Klein Funeral Home.

---