Robert D. "Bob" VanSickle
Date of Death: 05-30-2022
Funeral Service : 07-02-2022
---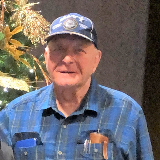 Robert D. "Bob" VanSickle, 78, of Platte City, MO passed away May 30, 2022.
He was born on January 3, 1944, to Fred T. and Mary Berniece (Bamman) VanSickle in Macon, MO where he grew up and in 1961, he graduated from Macon High School. Bob served his country in the US Navy from 1961-1967. After his honorable discharge he returned to Platte City, MO.
On February 6, 1965, he was united in marriage to Carolyn Faye Claypoole. After their marriage they lived in Platte City where they made their home.
Bob was a member of the Hillsboro Christian Church in Platte City, MO and was an active member of the Lions Club in Liberty, MO. He was a school bus driver for the Platte County School District and was a driver for several car dealerships in the area. Bob loved ministering to the children he drove for and was always helping neighbors and friends.
He is survived by his wife Carolyn VanSickle; one son Dee VanSickle and wife Megan; grandchildren Madeline and Parker VanSickle; sisters Barbara Jobson and husband Harvey and Elizabeth Helsel and husband Larry; brother-in-law Larry Claypoole; nieces Sherri Claypoole, Anita Jobson Wolfe and husband Phillip and Jill Helsel; nephew Andrew Jobson and wife Elizabeth; other relatives and many friends.
Celebration of Life:  2:00 p.m. Saturday, July 2nd at Hillsboro Christian Church, Platte City, with visitation one hour prior to the service.
Donations may be made to the Hillsboro Christian Church.
 Arrangements by Hixson-Klein Funeral Home, Smithville

---