R.L. Masoner
Date of Death: 11-08-2020
Interred: Ridgely Cemetery
Funeral Service : 11-11-2020
---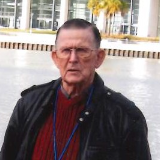 Ralph Leroy Masoner, 97, of Edgerton, MO passed away November 8, 2020.
He was born on May 18, 1923 to Ralph and Maudaline (McMillian) Masoner in Edgerton, MO where he grew up and attended school. He then served his country in the U.S. Army during WWII. 
On February 17, 1944, he was united in marriage to Helen Pauline Heiserman in Kansas City, Kansas. After their marriage they lived in Edgerton where they made their home. Helen passed away on January 9, 1993. 
R.L. was a lifelong active member of the Mt. Zion Baptist Church. He was also a member of Edgerton American Legion Post where he received his 70 year pin. 
R.L. worked for Davis Paint in North Kansas City where he retired in 1985. After his retirement he worked for Clay County Parks and Recreation where he worked until he was 92 years old. R.L. enjoyed fishing and being outdoors. 
He was preceded in death by his parents Ralph and Maudaline Masoner; wife Helen Masoner; daughter Sonjia Rogers; brother R.C. Masoner; sisters Christine Stubbs, Norma Logan, Hilda Nash and Darlene Blankenship.
R.L. is survived by his son Larry "Butch" Masoner and wife Sandy; grandsons Billy Rogers, Rick Rogers, Chad Rogers, Shane Masoner and Brandon Masoner; great-grandchildren Jordynn, Megan, Kylie, Ashley, Shawn, Ryan, Cody, Kortney, Olivia and Caden, Lincoln, Addison, and Aven; 7 great-great-grandchildren; long-time companion Maxine Harmer; numerous nieces and nephews, other relatives and many friends.
Visitation: 10:30-11:30 a.m. with Funeral Service at 11:30 a.m. Wednesday, November 11th at Mt. Zion Baptist Church.
Burial with Military Honors:  Ridgley Cemetery 
Donations may be made to Mt. Zion Baptist Church.
Arrangements Hixson-Klein Funeral Home, Edgerton

---