Rebecca Sue Agnitsch
Date of Death: 07-28-2019
Funeral Service : 08-24-2019
---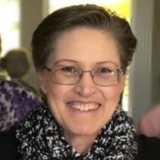 Rebecca Sue (Houseworth) Agnitsch, 61, of Kansas City, Missouri, passed away on July 28, 2019 surrounded by her family after a courageous fight against cancer. She was born in Carrollton, Missouri to Anders and Mary Ethel Houseworth on June 8,1958. Upon graduating Carrollton High School in 1976, she attended Central Missouri State University where she graduated with a finance degree and received her MBA from Rockhurst University. She started work in Kansas City at H.D. Lee then Gear for Sports. She continued to work in finance at Martin Logan, and Vanguard Companies Incorporated throughout her career. She took great pride in being the band booster president at Blue Valley West High School and loved being very active in the Girl Scout organization as a scout leader and the Registrar for the Mid-Continent Girl Scout Council. 
She married Rick Agnitsch of Mitchell, South Dakota on May 27, 1984 and together they had 2 children, daughter Lauren (Agnitsch) Piper and husband Casey of Independence, MO. Son, Ryan Agnitsch and fiancée Meghan Murphy of Phoenix, AZ. Sue was also a loving grandma of 2 grandchildren Merrick and Mia Piper, Independence, MO. 
She loved her dogs: Mason and Blue, her bird Rosie, her beautiful flowers, and most of all she loved spending time with family! She was a wonderful cook and so many will miss her delicious pies!
She was preceded in death by her parents Anders and Mary Ethel Houseworth, brother, Charles Houseworth, sister-in-law, Mauretta Houseworth and nephews Stephen Brian Houseworth and Timothy Davis. She is survived by husband Rick Agnitsch of the home. Sisters: Mariam (Houseworth) Goforth and husband Courtney, Stanberry, MO, Elizabeth Ann 'Annie' (Houseworth) Walden and husband Ivan, Excelsior Springs, MO, Mary (Houseworth) Davis, husband Mike, Carrollton, MO and sister-in-law Carolyn Houseworth (Charles Houseworth) Lexington, MO. Brothers: Jim Houseworth and wife Tammy, Carrollton, MO, Andy (Jr.) Houseworth and wife Mary, Excelsior Springs, MO, and Tom Houseworth and wife Barb, Richmond, TX. 
She is loved and missed by numerous aunts, uncles, cousins, nieces, nephews, and extended family and friends. A Memorial service will be held at the Holy Family Catholic Church, 919 NE 96th Street, Kansas City, Missouri on Saturday, August 24. Visitation at 10 a.m. with Mass at 11 a.m. Friends and family are invited to a lunch following in the church fellowship hall. A private graveside service will be held at sunset at Oak Hill Cemetery in Carrollton, MO. In lieu of flowers, the family requests making a memorial to the charity of your choice or a donation to Crossroads Hospice in memory of Sue. They ask if you could share a special memory with the family by sending them to: Rick Agnitsch, 11240 North Belleview Drive, Kansas City, MO 64155 Condolences can be left at: www.hkfuneralhome.com

---