Ralph Haskins
Date of Death: 04-30-2023
Funeral Service : 04-30-2023
---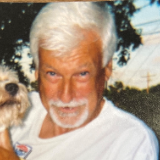 Ralph Haskins, 84, of Leavenworth, KS passed away, April 30, 2023.
He was born on June 11, 1938 to Rubert and Lillian (Palmer) Haskins in Leavenworth, KS. Ralph grew up and attended school in Leavenworth. He then served his country in the U.S. Navy.
He was united in marriage to Mary Dorsey. They had two children, Michael and Robin, who they raised in Leavenworth. Ralph joined the Boilmakers Union Local 83 in Kansas City in 1977, retiring in 1999. He later married Ruth Murray in 2001. They moved around the United States, and returned to Leavenworth in 2005, and moved to Smithville in 2021.Ralph was a 45-year member of AA. He owned and operated All Star Sports Cards from 1990-2003 in three different cities. He loved reading, animals and most of all his family.
He was preceded in death by his parents; sister, Lela; and his former wife, Mary.
Ralph is survived by his wife, Ruth; children, Michael (Sue) Haskins and Robin Haskins; step-children, Kelli (Gordon) Harpe and Matt Murray; seven grandchildren, Christopher Haskins, Samantha Ott, Max Haskins, Matt Harpe, Rachael Wolfner, Stephen Harpe, and Christine Harpe; eight great-grandchildren; and cousin, Shirley Biastock; and many friends.
The family will host a Celebration of Life at a later date.
Donations may be made to the Leavenworth Public Library or Gladstone AA.

---