Olivia Rose Coontz
Date of Death: 11-02-2019
Funeral Service : 11-09-2019
---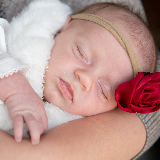 Olivia Rose Coontz
September 26, 2019 - November 2, 2019
Olivia Rose Coontz, Riverside, Missouri, was born on September 26, 2019 and unexpectedly passed away on November 2, 2019. We had her in our lives such a very short time but each moment with her was pure joy. Olivia Rose would smile when her mother, Brooke Coontz, told her how much she loved her and how pretty she was. She would turn to look for her brother, Grayson Coontz, when she heard him talk, probably because she knew she was about to receive a really big hug! Olivia Rose was also blessed to have Taylor Hawkins in her life who loved her like a father. 
 As we held her in our arms and loved on her we did not know she would only be with us a little while before God reclaimed his angel. Her leaving has caused a lot of tears and pain but we know that she is being held in God's loving arms right now and he will dance and play with her until we can see her again in Heaven. Olivia Rose is survived by her mother, Brooke Allison Coontz, and her brother, Grayson Scott Coontz (4), of Riverside, as well as by her maternal grandmother and grandfather, Lynn and Mark Juett, of Smithville, MO; her paternal grandmother and grandfather, Kristie and Mark Slugantz, of Camden Point, MO; her uncle, Joshua Slugantz, of Lee's Summit, MO; and her aunt, Scarlett Slugantz, Camden Point, MO. She is also survived by her great grandmother, Rosemary Nugen, Harrodsburg, KY, who had the joy of being present in the delivery room when Olivia Rose was born. 
A memorial service is scheduled for Saturday, November 9th, starting at 11:00 am at Platte City First Baptist Church, Platte City, MO. Friends are welcome to visit with the family at the church from 10:30 to 11:00.
Arrangements, Hixson-Klein Funeral Home, Smithville, MO
Donations may be made to Grayson Coontz's Missouri 529 Higher Education Plan for College. To make a gift contribution, go to https://www.ugift529.com/home.html and enter Ugift code B3W-X32.
---