Nigel Adkins
Date of Death: 01-04-2022
Funeral Service : 01-08-2022
---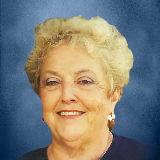 Nigel Faye Adkins, 88, Dearborn, MO, went to her eternal home, Tuesday, January 4, 2022, while in transport to Saint Luke's Hospice House. 
Nigel was born at her family home in Maysville, MO on Tuesday, October 17, 1933, as the daughter of Eugene and Fern (Coffey) Morgan. As a young girl, she lived in multiple locations around Maysville and St. Joseph, finally spending her teenage and young adult years in Faucett where she graduated from high school in 1951.As a young adult, Nigel worked at Wyeth & Company in St. Joseph and then for the North Platte School District as secretary to the principal. In 1954, she married her sweetheart of eight years, Wayne Ray Adkins of Dearborn.
Nigel and Wayne have three children: Vernon (Deanna) Adkins of Camden Point, MO; Regina (Chris) McCord of Kansas City, KS; and Brenda (Joe) Horn of Parkville, MO.
Nigel served in many roles throughout her community including Sunday School teacher; church music director, founder and promoter of the long-running Harvest Moon Festival (Dearborn) and founder of the North Platte County Historical Society Museum and Cultural Center where her love of history has developed a platform for education and preservation of the county's extraordinary past. She had many interests including gardening, caring for birds, flowers, farming, cooking and art. She was a faithful Christian, horsewoman, wife, daughter, sister, aunt, mother, grandmother and great grandmother. 
Nigel left fulltime employment and became a homemaker when her first child was born. She raised her family on the farm she and Wayne owned in Camden Point. Here, she created what she referred to as her first "permanent" home where she would live for more than 40 years. Wayne and Nigel lived there until moving to their home outside of Dearborn where they spent close to 30 years. She was the first one up in the morning and the last to go to bed at night. She worked endless hours making homemade light rolls, pies and large meals for those working in their farm fields. More than almost anything, she loved to entertain. She could create a feast out of nothing but cheese and crackers and always had a comfortable chair and glass of sweet tea for anyone who came to her door. Nigel never knew a stranger and always remembered to "show hospitality to strangers, for by so doing, some have entertained angels unaware." Hebrews 13:2
Nigel was an investor in people. She was always ready to give of herself to make life better for others and many times did without so that others' needs could be met. She was selfless in her care and concern for others. Her grandchildren were her most treasured gift from God.
Nigel was a long-time member of the First Baptist Church of Dearborn and later a member of Mt. Zion Baptist Church of Edgerton. She served on numerous teams of the Master's Builders helping build and renovate churches across the United States.
Nigel was preceded in death by her parents Eugene and Fern Morgan; her siblings Dale Morgan and Donna (Leroy) Barnett. She is survived by her sister (Alice Monaghan); three children (Vernon, Gina and Brenda); six grandchildren: Jacob (Sarah) Adkins, Grant (Stacey) Adkins, Sam (Danna) McCord, Anna (Patrick) Stutler, Cooper Horn and Tucker Horn; six great grandchildren: Justus, Hudson, William, Charlotte, Denver and Elle; many nieces and nephews and extended family.
Due to Covid-related outbreaks in northern Platte County, only a small, family graveside service will be held at this time with a public Celebration of Life to be offered in the future. 
Cards may be sent to 12730 Z Hwy, Dearborn, MO 64439
If memorial donations are considered, Nigel and Wayne were long-time supporters of the following charitable organizations: Children's Mercy Hospital – 2401 Gillham Road, Kansas City, Missouri 64108 or Lives Under Construction Boys' Ranch – 296 Boys' Ranch Road, Lampe, MO 65681

---