Neal Day
Date of Death: 07-25-2019
Funeral Service : 08-17-2019
---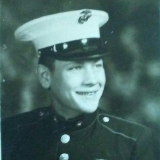 Harold Neal Day, 65 of Lawson, MO formerly of the Kansas City, MO area passed away July 25, 2019.
He was born on October 20, 1953 to Lester Ray and Margaret Louise (Dingman) Day in Kansas City, MO. He grew up in the Kansas City area and attended Ruskin High School in Kansas City. Neal then served his country in the U.S. Marine Corps. After his honorable discharge, he started his career as a teamster for Signal Delivery and later worked for several other teamster companies as a truck driver and dock worker. In 1992 he began driving for A.B.F., retiring in 2010.
Neal was a member of the Smithville American Legion Post #58. He loved playing guitar, singing and entertaining everyone. Neal also enjoyed riding his Harley and loved watching the Chiefs on Sunday. 
He was preceded in death by his parents.
Neal is survived by his son Adam Neal Day; brothers Randy Day and Diane, Polo, MO and Rick Day and Jolene of Lathrop, MO; sisters Sandra Baskin and Danny, Belton, MO and Judy Knight and John, Lawson, MO; several nieces, nephews and cousins, other relatives and many friends. 
 Military Honors: 11:00 a.m. Saturday August 17th with Celebration of Life following at Smithville American Legion. 
 Arrangements by Hixson-Klein Funeral Home, Smithville

---