Nancy Crawford
Date of Death: 07-21-2022
Funeral Service : 07-21-2022
---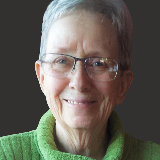 Nancy Lee (Jones) Crawford, 73, passed away July 21, 2022. 
She was born August 16, 1948, in Kansas City, Missouri, to Raymond G. and Nanie L. Jones. She was married to Will Crawford on February 5, 1968.
Nancy enjoyed being a homemaker while her children were in school and worked varied jobs in the years that followed. She enjoyed traveling with her family, particularly as navigator in a motorhome (unless she had to navigate over a tall bridge).
She was known to combine their vacations with her love of genealogy, looking at courthouse records in places they visited. Nancy was an early adopter of the personal computer, and she combined that with her genealogy, as well, long before ancestry.com.
She was a talented seamstress, making everything from costumes for Halloween and dance recitals to the wedding attire for her son and daughter-in-law.
She was preceded in death by her husband, Will, and children Tom Crawford and Diane Burns. 
She is survived by her children, Chaundra Crawford, Peter Crawford and his wife Nancy, Gay Crawford and Roger Burns; grandchildren, Max Crawford, Barbara Crable, Kelly Fetterman, Steven Brands, Robert Burns, Tracy Getting and Thomas Burns; and fourteen great-grandchildren.
A Celebration of Life and interment will be held at a later date.

---