Mike Liday
Date of Death: 11-17-2020
Funeral Service : 11-21-2020
---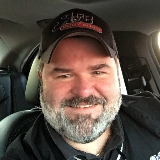 Michael Ralph Liday, 49, of Gower, MO passed away November 17, 2020.
He was born on February 3, 1971 to Robert A. and Glenda J. (Moser) Liday in Ft. Riley, KS. Mike grew up in Gower and in 1989 graduated from East Buchannan High School. 
Mike worked for Collision Repair Specialist, A&B Carstar and was currently working for Bailey's Collision Repair. He enjoyed farming, woodworking, and doing home projects. Mike loved saying "I'm a jack of all trades and master of none". He loved life and loved his family. 
He was preceded in death by his father Robert A. Liday, Ret. LTC.
Mike is survived by his wife Betty "BJ" Liday; first wife Rachael Musser and their daughters Erin (Scott) Taylor and Ally Liday; granddaughter Ivy Armani-Lynn; mother Glenda J. Liday; brother Dan Liday; numerous aunts, uncles, cousins and many friends.
Memorial Visitation: 4:00-6:00 p.m. Saturday, November 21st at Hixson-Klein Funeral Home, Gower.
Donations may be made to East Buchanan FFA Alumni or St. Jude's Children's Hospital.

---