Maxine Jackson
Date of Death: 05-03-2023
Interred: Blakely Cemetery
Funeral Service : 05-08-2023
---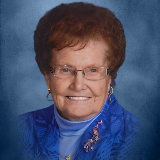 Maxine Jackson, 94, of Easton, MO passed away, May 3, 2023.
She was born on February 17, 1929 to Pern Ival and Ethel (McClain) Easter in Rushville, MO. Maxine grew up in Rushville, the family later moved to the Gower area, and she graduated from Gower High School. 
On June 28, 1947 she was united in marriage to Howard Dale Jackson. After their marriage they lived in rural Easton where they farmed and made their home. Her husband, Howard, passed away, March 10, 2013. 
Maxine was a member of the Gower Christian Church where she was a Sunday School Teacher for many years. She enjoyed sewing, quilting and crocheting.
Maxine was preceded in death by her parents, infant grandson Howard William Sutton; sister, Jerry Jackson; and son-in-law, Dennis Sutton.
She is survived by her children, Ron (Kay) Jackson and Cheryl Sutton; grandchildren, Scott (Gail) Sutton, Shelly (Chuck) Parks, Kellie Sutton, Doug Sutton, Kara (Brandon) Spaeth, Kristen (Dusty) Whiteley, and Kyle (Ashley) Jackson; fourteen great-grandchildren; nine-great-great-grandchildren; several nieces and nephews, other relatives and many friends.
Funeral Services: 10:00 a.m. Monday, May 8th at the Gower Christian Church AFC Building.
Visitation: 5:00-7:00 p.m. Sunday, May 7th at the Gower Christian Church AFC Building.
Burial: Blakely Cemetery, Easton, MO.
Donations may be made to the Gower Christian Church.
Arrangements, Hixson-Klein Funeral Home, Gower

Livestream of the service:  https://youtube.com/live/2NMAzm1A4jY?feature=share

---