Kenneth Ramey
Date of Death: 11-02-2019
Interred: Second Creek Cemetery
Funeral Service : 11-05-2019
---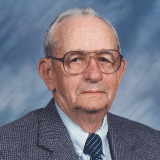 Kenneth Ramey, 100, of Ferrelview, MO passed away, Saturday, November 2, 2019. 
He was born on November 22, 1918 to Ottie and Buena (Logan) Ramey in Platte County, MO. He then attended Second Creek School and graduated from Smithville High School in 1936. 
On December 28, 1940 he was united in marriage to Bonnie Jean Tippit. After their marriage they lived in Northmoor and moved to Ferrelview where they made their home. His wife, Bonnie, preceded him in death on September 25, 1973.
Kenneth was a Tec 5 in the U.S. Army, and served 30 months overseas and received the Bronze Star. He placed flags on Veterans graves at Second Creek Cemetery for 20 years.
Kenneth worked as a front-end mechanic for 42 years in Kansas City and 4 years at Packs Hardware in Smithville. 
Kenneth was member of the Ferrelview Christian Church, VFW and the American Legion.  He enjoyed collecting old gas engines and spark plugs. 
He was also preceded in death by his parents, and brother, James Ramey.
He is survived by his son, Keith Ramey and wife Harriett; daughter, Karen Cox and husband Jerry; two granddaughters, Kathy (Richard) Neill and Kamie (Brian) Washburn; nine great-grandchildren; three great-great-grandchildren; other relatives and many friends.
Graveside Service with Military Honors: 2:00 p.m. Tuesday, November 5th at Second Creek Cemetery, Kansas City, MO.
Arrangements, Hixson-Klein Funeral Home, Smithville.
Donations may be made to Second Creek Cemetery.
---