Keith Brown
Date of Death: 07-04-2021
Interred: Blakely Cemetery
Funeral Service : 07-07-2021
---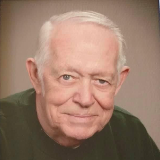 Keith Harlan Brown, 82, of Stewartsville, MO passed away July 4, 2021 at the Gower Convalescent Center after a year-long battle with cancer. 
He was born on April 11, 1939 to Harlan Franklin and Mary Annabell (Simpson) Brown in Auburn, NE. Keith grew up in Lincoln, NE and in 1956 his family moved to Easton, MO and he graduated from Easton High School in 1958. He served his country proudly in the U.S. Army and later the Missouri Air National Guard.  
On July 20, 1962 he was united in marriage to Linda L. Noland. After their marriage they were stationed in Germany, and in 1965 they returned home. In 2007 they retired to Stewartsville, MO where they and made their home with their daughter and son-in-law. Linda passed away on March 28, 2011. 
Keith was a member of the Gower Baptist Church, a proud member of the Teamsters and the Gower Goodtimers.He retired after 32 years of service from NW Transport. He made lots of friends in Gower at his church, and the stores, especially Kwik Korner where he played the lottery daily just knowing he was going to "make a lot of people happy".  
He was preceded in death by his wife Linda Brown; his parents Harlan and Mary Brown; brother Kenneth Brown and grandson Kevin Brown.  
Keith is survived by daughter, Darby Grier and husband Art, with whom he made his home, Keith Brown, Jr., Jason Brown and wife Angelica, and Dustin Brown and Brandy; sister and brother-in-law Marla and Gary Chesser; grandchildren, Joshua (Sara Downs) Walkup, Christopher (Brandi) Grier, Holly (Adam Claycomb) Grier, Michael Duran, Jessica Duran, Francisco Brown, Aaron Brown, Nicholas Brown, Brian Brown, Lei Brown and Aerika Brown; eleven great-grandchildren; a host of other relatives and friends.
The family would like to thank the staff of the Gower Convalescent Center and Mosaic Hospice for their compassion and excellent care.  
Visitation: 6:00-8:00 p.m. Tuesday, July 6th at the Gower Baptist Church Funeral Services: 10:00 a.m. Wednesday, July 7th at the Gower Baptist Church  
Burial:  Blakely Cemetery, Easton, MO
In lieu of flowers, donations may be made to the First Baptist Church of Gower Food Pantry or the Gower Convalescent Center Activities Department. 
Arrangements by Hixson-Klein Funeral Home, Gower.

---