Jon Hines
Date of Death: 10-30-2022
Funeral Service : 11-05-2022
---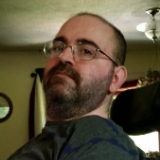 Jon Eric Hines, 55, of Parkville, MO passed away October 30, 2022.
He was born on July 21, 1967, to Fletcher and Frances (Newby) Hines in Independence, MO and graduated from Van Horn High School in 1985.
On July 14, 2001, he was united in marriage to Julie (Jamison) Knighton. After their marriage they lived in Parkville, MO where they made their home.
Jon was a Platte County Deputy. Later he was a Weatherby Lake Police Officer and Deputy and Homeland Security Officer in Kansas City where he worked both jobs until 2007 when he was no longer able to work because of his diagnosis with MS. 
He loved shooting at the range, learning history and was a Kansas City Chiefs fan.
Jon was preceded in death by his father Fletcher Hines and sister in law Kay Gibson.
He is survived by his wife Julie Hines; his children Tiffany Hines, Kyle Knighton, Kelli Knighton and Kole (Sarah Dupre) Knighton; grandchildren Greg, Brooks, Shania, Ophelia, and Victor; his mother Frances Hines; his sister Sarah Hines; his brother Robert (Angela) Hines; mother and father in law George and Phyllis Jamison; brothers and sisters in law Greg Jamison, Kevin Jamison, Shelly (Craig) Arnold, Vicki (Ron) Green and Lynn (Chris) Sylva; other relatives and many friends. 
 Memorial Service at 3:00 p.m. with Visitation following until 5:00 p.m. Saturday, November 5th at Hixson-Klein Funeral Home, Smithville, MO.

---