John Howard Smith
Date of Death: 05-10-2019
Interred: Memorial Park Cemetery
Funeral Service : 05-13-2019
---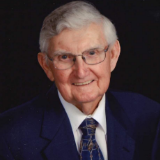 John Howard Smith, 91, of Gower, MO formerly of St. Joseph, MO passed from this life on May 10, 2019.
He was born on July 29, 1927 to John W. and Laura (Mallen) Smith near Grayson, Missouri.
He started first grade in 1933 at the new Grayson schoolhouse. He graduated from Gower High School in 1945. He then attended the University of Missouri, graduating in 1949 from their BPA School.
In September 1949 he took a job with Armour and Company in St. Joseph learning to buy cattle. After two years he went with Swift and Henry Livestock Commission Company. He remained there forty years eventually becoming part owner and president of the company.
On June 28, 1952 he was united in marriage to Betty Lee Walker of St. Joseph. To this union was born two daughters – Linda Lee and Laura Marie Smith. John and Betty were married almost 55 years before Betty's death.
On June 28, 2008, his favorite wedding day, he was married to Joan Lawson of Gower.
John was preceded in death by his parents – a baby brother Alfred Ernest, a sister Anna Laura Cradic, and his wives Betty (2007) and Joan (2018).
He is survived by his two daughters Linda Pettijohn (Charlie) of Springfield, MO and Laura Smith of Smithville, MO, and a stepson Dan (Debbie) Lawson of Gower, MO. He is also survived by a sister Martha (Russell) White of Plattsburg, MO. 
The family wants to express their gratitude to the excellent caregivers at the Gower Convalescence Center who cared for John for the final months of his life. 
Visitation: 12:30-1:30 p.m. with Funeral Services at 1:30 p.m. Monday, May 13th at Hixson-Klein Funeral Home, Gower
Burial: Memorial Park Cemetery, St. Joseph, MO 
John requested either flowers or donations to the American Heart Association in his remembrance.
---