John Charles Justus
Date of Death: 06-30-2022
Interred: Paradise Cemetery
Funeral Service : 06-30-2022
---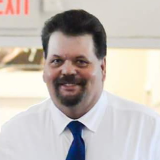 John Charles Justus, 56, of Smithville, MO passed away on June 30, 2022, in Gladstone, MO.
He was born in Smithville, MO, the son of Lowell Dean Justus and Virginia Carol Schref. John went to school in Smithville and Plattsburg.
He married Lavita Kitch in the year of 1988 after meeting at a young age and had two daughters together. They divorced in 2014. 
John owned his own roofing company in Lake of Ozarks area named Justus Roofing which was his passion for many years.
John loved to spoonbill fish, mushroom hunt, playing in pool tournaments, and most of all participating in the Platte County Derby. John will be remembered for his love to do these activities and his love for his family.
He was preceded in death by his mother Virginia Carol.
John is survived by his daughters Carol Justus and Krystle Pennington; his three brothers Billy, Brian and Roger Justus; his father and step-mother Dean and Gloria Justus and three grandchildren Jamie, Baron III, and Rozlynn.
Family inurnment will be held at Paradise Cemetery, Smithville.
Arrangements by Hixson-Klein Funeral Home, Smithville.

---