John A. Brubeck
Date of Death: 01-03-2021
Interred: Goss Cemetery
Funeral Service : 01-08-2021
---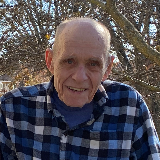 John A. Brubeck, 79 of Gladstone, MO formerly of Smithville, MO passed away January 3, 2021 at home surrounded by his family.
He was born on December 31, 1941 to Orville Kinzey and Alberta Jane (Sharp) Brubeck in Tracy, MO. John grew up in rural Platte City and in 1960 he graduated from Platte City High School.
On October 14, 1961 he was united in marriage to Mildred A. Bennett. After their marriage they made their home in Smithville. In 2013, they moved to Gladstone, MO.
John was a member of the Rising Sun Lodge #13 in Kansas City, MO. He worked for Builder's Steel in North Kansas City and Armco Steel in Kanas City until they closed. He then worked for the Smithville School district where he retired after several years.
John and Mildred spent several years working the Muscular Dystrophy Association where they helped with the Telethons and other fundraising events. He enjoyed spending time outdoors and doing woodworking. Most of all John loved being with his family and friends. 
He was preceded in death by his son Rusty Brubeck; his parents Orville and Alberta Brubeck; sisters Geneieve Hunt, Anna Cox and Martha Jones; sister-in-law Connie Brubeck; and brothers-in-laws Maurice Hunt, Jack Tate, R.B. Jones and Bill Cox.
John is survived by his wife Mildred Brubeck; daughter Melanie Soetaert and husband Greg; brothers James Brubeck, Rodney (Kathy) Brubeck and Dan Brubeck; sister Liz Tate; several nieces and nephews, other relatives and many friends. 
 Visitation: 6:00-8:00 p.m. Thursday, January 7th at Hixson-Klein Funeral Home, Smithville
Funeral Services: 11:00 a.m. Friday, January 8th at Hixson-Klein Funeral Home, Smithville
Burial: Goss Cemetery, Smithville In lieu of flowers, donations may be made to Goss Cemetery.

---