Jimmy Don "J.D." Kerns
Date of Death: 09-01-2019
Funeral Service : 09-07-2019
---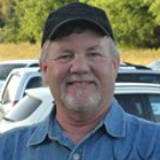 Jimmy Don "J.D." Kerns, 60 of Shawnee, KS formerly of Hemple, MO passed away September 1, 2019.
Jimmy Don "J.D." Kerns was born on June 16, 1959, 60 years old passed from this life on September 1st, 2019 after battling cancer. J.D. leaves this world to be with his heavenly father Jesus Christ and all his family members and friends who have passed before him. What a glorious day for J.D. to be reunited with his father Billy Gene Kerns and nephews Andrew and Alex Eli. 
 J.D. leaves behind the love of his life, his wife Susan; his beautiful daughters MacKenzie Nelson and husband Erik and Jordan (Mitchell Hartman); granddaughter Solveig Nelson; his mother Doris Lee Kerns; sisters Debbie Silvius and Cathy Karrasch and husband Warren; plus an incredible number of family, friends and coworkers.
J.D. graduated from East Buchanan Highschool in 1977 and Missouri Western State University in 1981. J.D. joined Panhandle Eastern Pipeline Company in 1982 where he began his 37 year career journey. For the first eighteen years, Panhandle led J.D. and his family to various locations in several states. As he continued to grow and prosper within the company, he and his family also developed many great friendships which continue to flourish today. In 2000 Panhandle led the family back to their Kansas City roots where he finished out his career amongst his family and friends. J.D. held Panhandle Eastern, his company, as well as his fellow colleagues, in the highest esteem.  
Please don't see this as a sadness. Rather see it as a time of great happiness and joy that J.D. has conquered his illness and moves on to the phase of his eternal journey.  
J.D. wants to thank everyone who has supported him and his family through love and prayers and asks that everyone continue to support each other through the same love and prayer every day for the remainder of your life. He also wants everyone to know that he had a personal relationship with Jesus Christ and encourages everyone reading or hearing this to develop or strengthen their relationship so that one day we can all be reunited and enjoy eternity together. J.D. looks forward to the day we will all be together again.  
Visitation:  6:00-8:00 p.m. Friday, September 6th at Hixson-Klein Funeral Home, Gower, MO
Funeral Service: 11:00 a.m. Saturday September 7th at the Funeral Home.
In lieu of flowers the family request donations be made to one of the following:  
Great Plains SPCA, 5428 Antioch Dr. Mission, KS 66202
Or
Head For The Cure  1607 OAK ST. KANSAS CITY, MISSOURI 64108 https://www.headforthecure.org/foundation/memorials/jimmy-don-kerns
---