Jerry Pflugradt
Date of Death: 01-28-2022
Funeral Service : 05-12-2022
---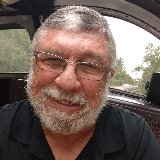 Jerry Dee Pflugradt, 67 of Easton, MO passed away January 28, 2022.
He was born on May 12, 1954, to Henry E. Pflugradt, Sr. and Eva M. (Conlin) Pflugradt in St. Joseph, MO. Jerry grew up in Easton and attended school.
On March 26, 1996, he was united in marriage to Kimberly Ann Koenig. After their marriage they lived in Easton where they made their home.
Jerry was an over the road truck driver and owned Pflugradt Trucking. He was most caring selfless man who would help anyone he could. Jerry enjoyed road tripping, boating, camping, fishing and just being outdoors. He loved his animals and his family and most of all he was an amazing husband, dad and papa.  
He was preceded in death by his father Henry E. Pflugradt, Sr.; sister Sherry Lyons; son Kyle Bruce; mother and father-in-law Donald and Rosemary Koenig.
He is survived by his wife Kim Pflugradt; children Lucas Durrill, Danielle Durrill, Tonya Serafin, Dale Harrison, and Kimmy Reeves; grandchildren Daybria "Stinker", Oni, Dom, Lafayette, Mickie, and Skyler; several great-grandchildren; mother, Eva Pflugradt; brothers Jim Pflugradt and wife Pam, John Pflugradt and wife Kathy, Joe Pflugradt and wife Sharon and Henry Pflugradt and wife Lisa; sisters Sandy Pflugradt and Susie McDowell and husband Eddie; other relatives, many friends. 
Celebration of Life will be held from 6:00-8:00 p.m. Thursday, May 12th at Gower American Legion Hall. 
 Arrangements by Hixson-Klein Funeral Home, Gower.

---